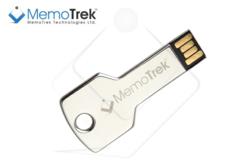 The 32GB MemoTrek™MetalKey USB drive enables you to carry your important data files, company presentations and your innovative applications with you every day
Hong Kong (PRWEB) April 16, 2012
MemoTrek™ Technologies, the leading wholesale supplier of branded USB flash drives and promotional USB memory has recently announced the launch of the MemoTrek™ MetalKey USB flash drive, a classical key shaped metal USB flash drive containing a high quality NAND flash memory solid state chip with a storage capacity of up to 32GB.
The MemoTrek™ MetalKey 32GB USB key of solid metal can be branded with a custom company logo to create sustainable marketing value and boost marketing ROI by giving an attractive and truly practical promotional gift to the two important segments of potential new customers or loyal VIPs.
The MetalKey's solid metal casing in made in exactly the same shape and size of a normal key, and can be branded with a company logo, corporate slogan or website URL and in order to create the ideal corporate gift:
Highly functional, attractive, desirable and guaranteed to be popular with all customers, co-workers and other important business peers. And while at the same time serving as a media for corporate marketing presentations, software applications or any other data that needs to be shared with peers.
"You will be amazed by our new and ultra-portable MemoTrek™ MetalKey USB flash drive that fits on every key chain. The MemoTrek™MetalKey USB drive enables you to carry your important data files, company presentations and your innovative applications with you every day", says a spokesperson for MemoTrek™ Technologies.
"Securely storing your data on the the high speed NAND flash memory chip with a spacious capacity up to 32GB, the MemoTrek™ MetalKey USB stands out as a highly portable SSD solid state drive that fits on every keychain and is designed to last."
"The timeless and classical shape of a pure and simple metal key engulfs modern state of the art storage technology. This is where design and functionality blends into a new and innovate structure", he adds.
Because of it's small footprint, as well as the durable and solid design and its elegant touch of sophisticated understatement the MemoTrek™ MetalKey USB flash drive tends to blend so much in with any normal keys that it might not get noticed that someone actually carries e.g an encrypted backup image of important personal data or document scans among the keys on their keychain.
An enormous amount of information can be stored on the spacious 32GB version, and even on the 8GB and 16GB versions of the MemoTrek™ MetalKey USB it is possible to store and conveniently transport backup images of entire operating systems, user environments as well as a huge amount of multi media files, videos and software.
Branded by precision laser engraving equipment that elegantly etches a company logo, project slogan or corporate website discreetly onto the stainless metal surface of the minimalistic and elegantly key shaped metal USB flash drive, the MemoTrek™ MetalKey USB makes for the perfect promotional gift with a long lasting, sustainable and practical value.
The MemoTrek™ MetalKey USB is light and has a very small footprint, and because of this easy handling it's the ideal storage device for data when traveling on business trips, or for companies to bring to their important seminars, meetings and company events with many participants.
"Just imagine - with only a small suitcase full of MemoTrek™ MetalKey USB flash drives you will be able to spread your data and your brand image to hundreds of participants to your event. You can easily fit a 500 units or more of the MemoTrek™ MetalKey USBs into a 15kg suitcase, and preloaded with your company data or applications you can make sure that your corporate marketing message reaches every single receiver. "
"You can also preload the USB flash memory key with data on a dedicated read-only partition that is write protected and in order to convey your message to your client or customer in a more sustainable way. As your customer is likely to use the MemoTrek™ MetalKey USB in every digital life, both at home and in office, you can make sure to boost your brand's exposure and enforce your corporate marketing message in a lasting way", says the MemoTrek™ spokesperson.
It's small, attractive and is perceived as being highly valuable for its size. But more than that, the MemoTrek™ MetalKey USB comes with true functional value and will certainly be used by the receiver in many parts of his every day life, both in professional office surroundings or business settings and at home or for fun and when sharing files with friends and family members.
Looking good both on a meeting table in a board room as well as on a main key-chain or together with a chain of car keys, the MemoTrek™ MetalKey USB can used to hold everything from images to Operating Systems to boot into, to company sales presentations, marketing Apps or media files and movies.
Loaded with MP3 files, a 32GB MemoTrek™ MetalKey USB can hold a huge collection of music that can be plaid on most computers, TV's, media centers and car audio systems. This makes the MemoTrek™ MetalKey USB compatible with most modern media centers and audio devices.
"Why store your music in "the cloud" and possibly have to pay for your data transfer volume every time you want to listen to a song, when you can just copy your collection to a 32GB MemoTrek™ MetalKey USB and play your music instantly and everywhere. Also, the MemoTrek™ MetalKey USB makes it easy to share media files and information with your friends and co-workers," says the MemoTrek™ spokesperson.
Equipped with individual choice of high quality NAND flash memory or A-grade original Samsung or Intel NAND flash memory chips, the MemoTrek™ MetalKey USB is covered by the 12 Month MemoTrek™ Warranty and undergoes a strict quality control process prior to dispatch.
View more detailed information about the MetalKey USB in the MemoTrek™ wholesale shop.
Company Information
MemoTrek™ Technologies was founded in 2007 and is today's leading international wholesale supplier for branded USB flash drives, wholesale electronics and branded merchandise and to corporate customers worldwide, and is proud to be serving customers in more than 55 countries.
Wholesale buyers with OEM requests please contact the MemoTrek™ Sales Team now.