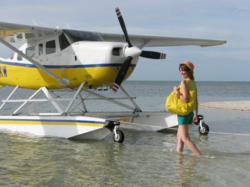 Imagine a Sunset Seaplane Flight Overlooking Key West...or The Seven Mile Bridge
Key West, FL (PRWEB) June 30, 2013
Key West Seaplanes, the region's premiere and exclusive seaplane charter company announces donation of a top award at the upcoming 29th Annual VNA Hospice/Visiting Nurses Association charity event on July 4th. The celebration is set to take place at the luxurious Casa Marina Resort & Beach Club, A Waldorf Astoria Collection, located at 1500 Reynolds St. overlooking the Atlantic Ocean. Scheduled to start at 5 p.m. with fireworks starting at 9 p.m., courtesy of the Key West Rotary Club. Key West Seaplanes will offer a fly-by with seaplanes from it's fleet during the opening ceremony at 6 p.m. to help kick-off the annual picnic and celebration.
For the third year in a row, Key West Seaplanes remains committed to this local charity group as they donate a luxury private seaplane charter to benefit the group. Key West Seaplanes representative Julie Ann Floyd excitedly shares, "We at Key West Seaplanes are all long-term local residents of Key West and The Lower Keys so we enjoy being a part of this amazing charity event that benefits people right here in our own community." The long-established seaplane company has previously donated private seaplane charter flights to the exclusive Little Palm Island for lunch but this year have opted to offer a different luxury seaplane charter experience. Floyd states, "We offer so many types of private seaplane charters... and this year we will be showcasing the winner's choice of a Private Seaplane Sunset Charter Flight for 2 or Our "Extra" Seaplane Sightseeing Flight which includes flying over the Seven Mile Bridge, Sombrero Light, Sand Key Light, Bahia Honda State Park and so many other breathtaking Florida Keys sights." The seaplane charter flights for this event will originate and end in Key West though Key West Seaplanes services all airports and seaplane bases in the state of Florida, The Bahamas and Caribbean.
Floyd states that "Past Annual Hospice/Visiting Nurses Association July 4 Picnic events have been an overwhelming success for Hospice and we are looking forward to being in attendance not only with our fly-by display of some of our seaplanes but also after our flight display when we will have a chance to enjoy ourselves with everyone else while watching the fireworks from the beach!"
Key West Seaplanes is based in Key West since 2009. The company offers seaplanes to Little Palm Island, an exclusive private island often found on Conde Nast's Top Ten List. The company also offers private seaplane flights from Fisher Island and the amazing Ocean Reef Club for residents of these phenomenal locations. Many travelers utilize Key West Seaplanes to The Bahamas and Caribbean starting on the Florida Mainland from points such as Miami and Ft. Lauderdale.
Key West Seaplanes routinely flies seaplanes for scenic flights of Key West, the reef and surrounding beautiful sights such as the many lighthouses and lighted reef lights of The Florida Keys. Sunset Flights have been increasingly popular as well as seaplane flights showcasing the world-famous Seven Mile Bridge.
The company has recently been featured by The Travel Channel on an episode of Trip Flip that started airing in April, 2013. Key West Seaplanes has also appeared in a feature article in the Internationally-acclaimed FLYING Magazine about the company's private seaplanes to Little Palm Island. Other accolades include being featured three times in just this past year in the popular publication Florida Travel and Life Magazine as well as having received the coveted Grand Champion Seaplane Award at Sun N Fun Fly and and Expo in March, 2012.