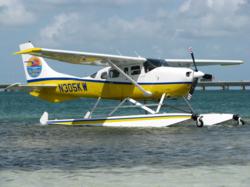 2013 TripAdvisor Certificate of Excellence Winner
Key West, FL (PRWEB) May 31, 2013
Key West Seaplanes, the region's premiere luxury seaplane charter service has been awarded TripAdvisor's prestigious "Certificate of Excellence" for 2013. This award places Key West Seaplanes in the top ten percent of all businesses worldwide on TripAdvisor.
Key West Seaplanes announced today that the acclaimed seaplane charter company has received yet another accolade, this time a TripAdvisor Certificate of Excellence award for 2013. This award which honors hospitality excellence, is given only to businesses that consistently achieve outstanding traveler reviews on TripAdvisor. This recognition places Key West Seaplanes in the top ten percent of all businesses worldwide on TripAdvisor.
Julie Ann Floyd, Key West Seaplanes' representative excitedly shares "We are incredibly proud of this most recent recognition by TripAdvisor with the Certificate of Excellence Award and we are happy to know that our passengers enjoy their private seaplane charter experiences with us on an ongoing basis." She adds, "It's wonderful to know that our passengers are so pleased with their experiences with Key West Seaplanes, especially with their Little Palm Island seaplane charters that they take the time to share their thoughts with other travelers".
The seaplane charter company is based in Key West, Florida and serves all points of the Florida mainland, The Florida Keys as well as seaplanes to The Bahamas and Caribbean. The company offers exclusive, private seaplane charter flights as well as aerial sightseeing flights of Key West and the surrounding tropical islands. Floyd states, "We offer so many options for seaplane travel including local aerial seaplane sightseeing flights as well as aerial photography of Key West, The Keys and all of our service area."
Key West Seaplanes has recently expanded it's fleet with a custom-designed and custom-built luxury seaplane. The company has just been featured on The Travel Channel's Trip Flip series in an episode entitled "Ocean Adventures in The Keys". This episode showcases a Key West Seaplanes charter flight starting in Miami and traveling the length of The Keys in an "Island Hopping by Seaplane" in The Florida Keys.
The popular seaplane charter company has also been featured in the famous FLYING Magazine with a story about Key West Seaplanes' Little Palm Island private charters. They have also been featured in Pilot Getaways magazine, as well as three times in Florida Travel and life that included a cover shot of one of the company's luxury seaplanes.