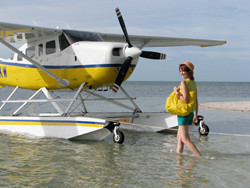 Every Aircraft in our Fleet is Award-Winning...
Key West, FL (PRWEB) July 08, 2015
Key West Seaplanes®, the region's premier seaplane charter company wins more coveted awards at the 2015 Sun N Fun Fly-In and Expo held in Lakeland, FL just weeks ago. Awards include "Outstanding in Type" and "Reserve Grand Champion Seaplane" for two aircraft in it's fleet.
Key West Seaplanes® now boasts a fully award-winning fleet with each aircraft having won awards that are generally awarded for aircraft owned and operated for personal, luxury use. Previous awards over the past three years include other members of the fleet being awarded "Grand Champion Seaplane" and yet another being awarded "Reserve Grand Champion Seaplane" at this same airshow. Key West Seaplanes® Julie Ann Floyd shares, "We are very committed to providing the best service for those that fly with us. One huge part of that commitment lies in our outstanding fleet that are all SID-inspected and very highly modified for safety, performance and comfort. It's nice to have the judges at the Sun N Fun event recognize the impeccable quality of the Key West Seaplanes® fleet".
The company looks forward to the future as it offers these award-winning aircraft to passengers that fly their seaplane charter service to locations such as seaplanes to Little Palm Island, Key West, The Bahamas and the entire state of Florida. Key West Seaplanes® is based in Key West, Florida and is locally owned and operated.
Key West Seaplanes® has many past and recent accolades including being featured in FLYING Magazine for it's seaplane charter service to Little Palm Island in the Florida Keys. The company has also been featured numerous times in publications such as Florida Travel and Life, Water Flying Magazine and a star on the Travel Channel's Trip Flip Show.