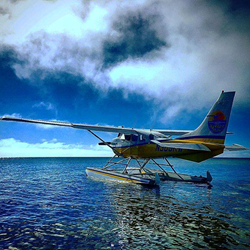 First official aircraft at Marathon International Airport Customs....
Marathon, Florida (PRWEB) May 22, 2016
Key West Seaplanes®, the region's well-established, premier seaplane charter company, makes front page headlines in The Key West Citizen since one of their seaplanes was the first official aircraft clearing through the new Customs facility at the Marathon International Airport. On April 20, 2016 Marathon Customs and Border Protection opened it's new Customs facility in Marathon with Key West Seaplanes® joining in the festivities.
On the front page of the April 21, 2016 edition of The Key West Citizen, appeared a full color photo of 305KW, one of the Key West Seaplanes® fleet as well as two of the company's pilots and owners, Julie Ann Floyd and Nikali Pontecorvo. The pilots and seaplane were the first to officially clear Customs after an International flight from Bimini, Bahamas to Marathon. Also pictured was U.S. Customs and Border Protection officer Maritza Rivera as the facility received the first official flight at the new federal facility at Florida Keys/ Marathon Airport.
Shortly after the arrival of the Key West Seaplanes® flight Monroe County and City of Marathon officials and border patrol agents attended a celebration, marking the opening of the new facility after eight years of lobbying and planning. As Timothy O'Hara reported, "the Florida Keys/Marathon Airport officially became an international airport...". Key West Seaplanes Floyd added, "We are so excited to be part of this celebration since we know first hand how this opens many international travel options for private flights from the Marathon International Airport to destinations such as Bimini, Nassau, and other amazing locations". She continues "This gives travelers the option to clear Customs here in Marathon rather than having to clear through Key West or Miami".
Nikali Pontecorvo from Key West Seaplanes® also stated "This new Customs facility adds another location option for service in the Keys and also since the Marathon Customs will be open on Sundays, it's very convenient for people traveling back to the U.S. after enjoying a weekend abroad".
Key West Seaplanes® has offered flights in and out of the Marathon Airport since about 2009. Many well-established options include flights from Marathon to Naples, Marathon to Miami and flights from Marathon to all points in the Bahamas and Caribbean. Key West Seaplanes® is based at the nearby Key West International Airport and has strong flying ties to the Marathon Airport such as being long-term members of the EAA (Experimental Aircraft Association) local Marathon chapter for many years.
Key West Seaplanes® has been featured in many acclaimed publications including FLYING Magazine, Worth Magazine and Florida Travel and Life. The company boasts a fleet of all award-winning aircrafts that include accolades such as Grand Champion Seaplane, Reserve Grand Champion Seaplane and Outstanding in Type. The company's website, KeyWestSeaplanes.com features on-line reservation options and full-color photos that tempt visitors to travel via a Key West Seaplanes® aircraft.