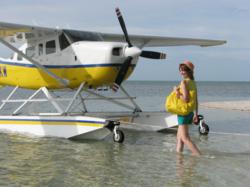 Bridal Guide has discovered a secret destination....
Key West, Florida (PRWEB) February 16, 2013
Key West Seaplanes, the region's premiere seaplane charter company makes the news again, this time being featured by "Bridal Guide", the long-established and most well-recognized resource for the bride-to-be. Bridal Guide and BridalGuide.com provide the complete resource for engaged women. They now feature a story about Little Palm Island a honeymoon spot so close to home made easily accessible by Key West Seaplanes from almost any originating point on the Florida Mainland or The Florida Keys.
In the article entitled "The Most Romantic Spot in Florida You Never Knew Existed", author Jennifer Lazarus excitedly shares her experiences with Key West Seaplanes as she and her husband fly from Key West to Little Palm Island for their romantic island getaway. Lazarus writes in amazement. "If you had blindfolded me for the trip, I would have never known I was in Florida. This was not the Florida I knew — the tropical setting, rich ecosystems, crystal clear aqua waters of this private island might as well have been in Tahiti, because it certainly looked and felt the same — minus the jet lag! I was shocked to learn that paradise existed so close to home and didn't require me to bring my passport".
This experienced Bridal Guide travel writer also shares, "At the Key West airport, we were greeted by the lovely Julie Ann Floyd and Nikali Pontecorvo of Key West Seaplanes for our first adventure....". She later confides that "Julie had called me at home the night before to discuss our flight the next day when I told her I am actually terrified to fly — especially tiny, 4-seater planes. Julie made me feel so at ease, especially when she told me she flies her mother and young nieces and nephews on her plane. I figured she must really be a confident and capable flyer if she does that — and it didn't hurt that she promised me a glass of champagne before I boarded".
Key West Seaplanes is based in Key West, Florida and offers private seaplane service for Key West, the Florida Keys, all the Mainland and all The Bahamas and Caribbean. The company also offers conventional (wheeled) airplane charter services for the United States, including all the Mainland and The Florida Keys.
Key West Seaplanes scenic flights are also available for The Keys and Little Palm Island guests. These include island, reef and lighthouse flights that start as low as about 30 minutes to Island Hopping seaplane excursions that last an entire day. Key West Seaplanes to Dry Tortuga s and Fort Jefferson is another popular aerial sightseeing flight offered by the company. For travelers wishing to visit Little Palm Island but who don't have the time for an overnight stay, Key West Seaplanes also offers seaplane flights to this spectacular island for breakfast, lunch/brunch and also dinner.
The private seaplane company has been offering luxury private air charter services since 2009 and has been featured in countless publications including the internationally-acclaimed FLYING Magazine, Florida Travel and Life (3 times within the past year), Water Flying Magazine (also 3 times within the past year) as well as Pilot Getaways Magazine in their recent November/December 2012 edition and Sun N Fun News.