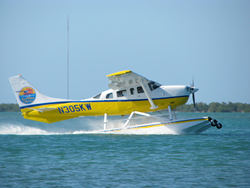 Private Seaplane Charters to Key West....new, expanded services
Key West, FL (PRWEB) May 14, 2016
Key West Seaplanes®, the region's premier seaplane charter company makes headlines in the Miami Herald, May 11, 2016. Gracing the front page of the business section is an announcement of an expansion of seaplane services for the long-established Key West Seaplanes®.
Key West Seaplanes®' representative Julie Ann Floyd excitedly shares, "We are happy to announce an expansion of our seaplane services and even happier to see that we are making the news with this announcement in the Miami Herald". She adds, "We also are looking forward to other announcements about expansion of services, so please stay tuned."
Key West Seaplanes® offers private seaplane charters in award-winning seaplanes for all the mainland of Florida, The Bahamas and Caribbean as well as seaplane scenic flights of the Florida Keys and Key West. Floyd adds,"We offer great options to get travelers from a land-based airport such as Miami International, West Palm Beach, Naples, Fort Lauderdale to fabulous destinations in all the tropics". But she also clarifies, "It's not just about the destination but it's also about the journey too.....the flights are beautiful. The planes are gorgeous. Your vacation starts the moment you board your seaplane".
Key West Seaplanes® has appeared in many other publications such as FLYING Magazine, Florida Travel and Life as well as Worth Magazine. The company also appeared on the Travel Channel's Trip Flip seaplane episode in the recent past. The company's website offers a virtual escape to the tropics and entices users to make a trip. KeyWestSeaplanes.com