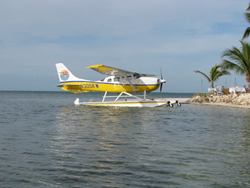 Find yourself at Little Palm Island Resort & Spa via seaplane...
Key West, FL (PRWEB) June 02, 2014
Key West Seaplanes® charter service to Little Palm Island is an option featured in Little Palm Island's "The Art of Getting Lost" book that is now in print. Other seaplane charter options featured with the company include trips for island guests to Key West for the day, with seaplane flights along the reef for sightseeing.
The hard-bound coffee table book published by Hawthorn Creative details the amazing Little Palm Island Resort and Spa that is nested in the tropical Florida Keys. Further entitled "Find Yourself at Little Palm Island Resort & Spa," the book is full of beautiful aerial photos and ground photos luring readers to the island. Key West Seaplanes® provides private, luxury seaplane charters to and from Little Palm Island. Many guests originate on the mainland of Florida from locations such as Miami International, Ft. Lauderdale International, Naples, Boca Raton and other airports while many other guests use water departure points such as Watson Island Seaplane Base in Miami.
In an excerpt from "The Art of Getting Lost," the writer begins with "When staying at Little Palm Island, it seems almost unnecessary to exert oneself beyond swinging from a hammock..." But, "Taking to the sky or cutting through water by means of wind and sail or plunging beneath the waves to explore another world are the tenets of Little Palm Island's activity repertoire." The writer tempts visitors "to truly take in the watercolorist swirls of blues and greens that make up the Keys, a seaplane charter is your best medium. For those wishing to venture a little further, a day trip to Key West (via seaplane charter with Key West Seaplanes®) for a little sightseeing is easily done flying over the many reefs that rest in the deeper waters of the Florida Straits."
Key West Seaplanes® routinely flies Little Palm Island guests to and from the island via private seaplane charter but the seaplane charter company also whisks these same guests to Key West for lunch or shopping...and even to fun and eclectic locals' restaurants along the Keys via "Island Hopping by Seaplane" from Little Palm Island.
Key West Seaplanes® is based in Key West and was established in 2009. The company also provides seaplane flights from Miami to Key West, and all the Florida Keys. Seaplane flights from West Palm Beach to Key West, and seaplane flights from Ft. Lauderdale to Key West. Key West Seaplanes® also offers private aerial sightseeing of Key West including sunset seaplane flights over Key West.
Key West Seaplanes® plans to further expand their seaplane fleet this year as demands for their seaplane charters are on the rise.