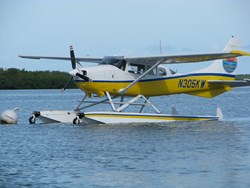 They were heroes that day...
Key West, FL (PRWEB) September 26, 2013
Key West Seaplanes®, the region's premier seaplane charter company, announces that two of its pilots recently rescued the pilot of a private airplane that made an emergency water landing on August 8, 2013 in the waters near Key Largo, FL. All pilots involved have received accolades from numerous agencies including the FAA, Miami area Air Traffic Control as well as the Coast Guard.
The amazing Key West Seaplanes® rescue story was the keynote topic at the most recent meeting of the Marathon EAA (Experimental Aircraft Association) held on September 14, 2013 at the Marathon Airport in Marathon, FL. The private pilot who made the emergency water landing, Chris Hasseitel shared the story with meeting attendees, most of whom are pilots. Those in attendance at the meeting also included the pilots of the Key West Seaplanes® seaplane (Julie Ann Floyd and Nikali Pontecorvo) that rescued him after he ditched his Cessna 152 in the waters near Key Largo, FL after his engine failed while en route to Miami on a personal flight.
Chris Hasseitel, a CFI (Certified Flight Instructor) who works out of the Marathon Airport was on his way from Marathon, FL to Miami when he began to experience engine troubles in his private, wheeled airplane. He made a distress radio call to the Miami area Air Traffic Control that was overheard by the Key West Seaplanes® pilots who were ferrying one of the company's seaplanes from Key West to Miami, with no passengers aboard. Hasseitel shared his story of the events that followed including the offer of assistance that came from Key West Seaplanes® pilots Floyd and Pontecorvo.
Key West Seaplanes® pilots Floyd and Pontecorvo share over 30 years of flying in the air and on the waters over and around the Key Largo region so were in an excellent position to offer assistance. Pontecorvo, also a CFI (Certified Flight Instructor) and Floyd, an FAA Aviation Medical Examiner and physician made the perfect team to follow the ailing Cessna 152 piloted by Hasseitel.
During the EAA meeting Hasseitel shared the story of his emergency water landing, the assistance rendered by the Key West Seaplanes® pilots and also reviewed the principals of ditching (aka making an emergency water landing in a regular, wheeled airplane not equipped with floats/pontoons) with the pilots in attendance. It was an comprehensive review of the techniques all pilots learn when in training. Key West Seaplanes® pilot Floyd states, "All pilots train for this and it just proves that the training works." She adds, "Everyone remembers the Airbus landing on the Hudson. Well, this was the same thing but Chris did it with a much smaller aircraft with the exact same excellent outcome. We are happy that we were able to assist him."
The story of Pilot Hasseitel making his emergency water landing and the Key West Seaplanes® pilots making this rescue also made the airwaves on US 1 Radio on August 26, 2013. The radio show was hosted by Ezra Marcus, well-known radio personality who invited Hasseitel to speak of his experience. During the radio appearance, pilot Hasseitel told his story of flying a private airplane over the Card Sound (waters near Key Largo, FL) while flying a routine flight/ a personal flight when the engine started "developing humongous problems." He made his distress call to Miami area Air Traffic Control and attempted to divert to Ocean Reef Airport, an exclusive, private airport located on Key Largo, FL.
It was during this time that the Key West Seaplanes® seaplane piloted by Floyd and Pontecorvo offered assistance, diverting their flight path and intercepting the ailing private aircraft piloted by Hasseitel. The seaplane followed the troubled airplane for approximately 25 minutes while Hasseitel nursed the airplane toward the Ocean Reef Airport. Nearly 7 miles away from Ocean Reef, his engine finally stopped and he was forced to make an emergency water landing in his private airplane that was not equipped with floats, just wheels. During the radio show, he states "I was very lucky to have Key West Seaplanes® nearby..." "They were heroes that day." He described the Key West Seaplanes® pilots as "excellent people, incredible pilots." Key West Seaplanes® pilot Floyd, however, shifts much of the praise toward Hasseitel saying, "I was really impressed with Chris' skill to do everything just as all pilots are trained. Had he not done his emergency water landing so perfectly, the story would have had a very different ending. We flew alongside him as he made a text-book-perfect emergency water landing and then we landed our seaplane beyond his touchdown point on the water. By the time we had our seaplane turned around, Chris was already out of his sinking airplane and sitting on its roof. Our job was much easier than his. We basically picked him up and gave him a lift from the water to Miami after he perfectly landed his airplane in the water under emergency conditions."
Key West Seaplanes® is an air carrier based in Key West, Florida and offers flights for the entire state of Florida, including The Florida Keys and Key West. They also offer private charters on their seaplanes to The Bahamas and Caribbean. The company was formed in 2009. Key West Seaplanes® pilots Pontecorvo and Floyd have been flying in The Keys and surrounding regions for 21 years and 10 years respectively. The pilots have received thanks and accolades from the FAA, Miami area Air Traffic Control (ATC) and numerous other agencies for their performance in this rescue.
Key West Seaplanes® to Little Palm Island is a popular luxury seaplane service featured in numerous publications including the world-famous publication FLYING Magazine, Florida Travel and Life in three separate issues, Pilot Getaways and Departures Magazine. Key West Seaplanes® service to Islamorada and The Postcard Inn was recently featured on an episode of The Travel Channel's Trip Flip. See the episode here at Key West Seaplanes®/Travel Channel/Trip Flip.