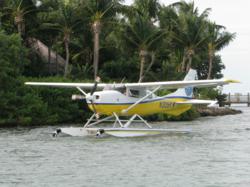 It was, in a word, breathtaking.
Key West, FL (PRWEB) February 21, 2013
Key West Seaplanes scenic flights of Key West, The Florida Keys and surrounding areas are featured by VISIT FLORIDA, the State of Florida's official source for travel planning. In an article titled "The Most Romantic Escape: Island Hopping via Seaplane in the Florida Keys," travel writer Kara Franker invites readers to get away from the world with Key West Seaplanes.
Ms. Franker entices the reader with an opening statement, "What if I told you of a way to completely forget the crowds and the hassle of the airport, ditch the traffic and the honking horns, and just float away to a secluded island getaway with that special someone? Your romantic island escape via seaplane awaits you! You've never really experienced the Florida Keys until you've seen them from a Cessna 206. Its an exhilarating experience, completely different from trekking along U.S. 1 in bumper-to-bumper traffic. My husband and I recently went for a ride and it was, in a word, breathtaking."
Key West Seaplanes offers local aerial sightseeing flights of Key West, flights over The Seven Mile Bridge as well as Island Hopping via seaplane. Franker shares again, "Cruising along at about 500 feet above the water gives you a unique vantage point from which to view sea life in the crystal blue waters below: dolphin, tarpon, rays, hammerheads and maybe even a manatee if you're lucky. From my perch in the co-pilot's chair, Nikali pointed out a giant sea turtle below. Nikali and Julie make excellent tour guides from the sky, pointing out islands like Woman Key and Man Key in the Mule island chain. They know the waters of the Florida Keys National Marine Sanctuary better than anyone I've ever met."
Key West Seaplanes is based in Key West and has been operating since 2009. The company is owned and operated by long term Key West residents, Julie Ann Floyd and Nikali Pontecorvo. Key West Seaplanes offers private seaplanes to Little Palm Island, Hawks Cay, Cheeca Lodge, Ocean Reef Club and all points along the keys chain. Pilot Julie Ann Floyd reminds all, "Much of Key West Seaplanes business stems from people simply wishing to escape city life in Miami and the rest of the mainland....and of course, we also have many people that fly down from up north. So they connect with one of our flights from their choice of any airport on the mainland and head straight for The Keys or The Bahamas". Key West Seaplanes aircrafts are amphibious so they are capable of landing on water as well as on land. Floyd adds, "This makes our seaplanes very versatile. You can start at Miami International or another airport and head for your tropical getaway.....landing on the water!".
Travel writer Franker recommends, "Take a jaunt [via Key West Seaplanes] to the exclusive Little Palm Island Resort & Spa, a private island vacation destination famous for hosting movie stars and A-Listers, located about 30 miles north of Key West. Check out the video we shot on location. Enjoy live music and a delicious slice of key lime pie at the laid-back Lorelei Cabana Bar [via Key West Seaplanes] and Restaurant in Islamorada. Check out the beautiful white sand beaches [via Key West Seaplanes] at Bahia Honda State Park on Big Pine Key."
Key West Seaplanes welcomes travel writers and video crews. The company was just also featured in a Bridal Guide Little Palm Island Honeymoon article. They welcome one and all and flights go 365 days per year. The company is an FAA-certified air carrier service that has recently expanded it's fleet with a custom-designed, custom-built luxury seaplane. They look forward to further expansion this calendar year.