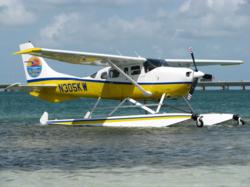 See Key West Seaplanes on Trip Flip
Key West, FL (PRWEB) April 07, 2013
Key West Seaplanes, the region's premiere private seaplane charter company is featured on Trip Flip, airing on The Travel Channel tonight, April 7, 2013. The "Key West episode" featuring one of Key West Seaplanes' aircraft embarking on a surprise Island Hopping excursion airs tonight for the first time at 8:00PM Eastern/7:00 PM Central time.
Key West Seaplanes' spokesperson, Julie Ann Floyd excitedly shares "We are so thrilled to have been a part of the Key West episode of Trip Flip! Everyone will have to tune in to see the amazing seaplane adventure for themselves.....I can't spoil the secret and tell you how it all turns out, But it was magnificent!".
The company was contacted a number of months ago by The Travel Channel to provide a private seaplane charter for guests that would be visiting The Florida Keys and Key West. After Key West Seaplanes shared many ideas they offer for seaplane destinations it was decided that Key West Seaplanes Island Hopping services would be best utilized by whisking a young couple away for a surprise private seaplane charter in one of the company's custom seaplanes.
Floyd adds, "The whole experience was amazing and we had so much fun taking part in the show. I can't tell you anything more than this but the day was gorgeous and sunny like it usually is here in The Keys....you'll just have to tune in to The Travel Channel to see the entire episode. Everyone had a blast including Bert, the host. We can't wait to see the show ourselves". Key West Seaplanes charters and Island Hopping services are unique in that the company offers private and exclusive seaplane charters all along the length of The Florida Keys the whole way down to Key West. The company's official website, http://www.KeyWestSeaplanes.com boasts that travelers can "Island Hop" via seaplane without ever leaving the United States and that there is "No Passport Required".
Key West Seaplanes is the region's premiere private seaplane charter company, offering seaplane charters to Little Palm Island and other exclusive destinations including Key West, Marathon, Islamorada and all destinations along The Keys. The company also offers seaplanes to The Bahamas and The Caribbean. "One of our most popular charters is flying via seaplane from Miami to Little Palm Island.....but this is NOT where we head off to on the Trip Flip episode. Don't worry, I am not giving away any secrets," shares Floyd.
The seaplane company is based in Key West and has been in full operation since 2009. Key West Seaplanes also offers Key West airplane tours with sightseeing by airplane and seaplane. "There is no better way to see The Keys and Key West than by air....and if you want to also enjoy the water, then a seaplane is the only way to do it all" states Floyd.
Key West Seaplanes continues to expand it's services and fleet and plans future expansion this year. The company states that their services are in high demand and their local pilots and local owners have many years of experience in flying The Keys, South Florida as well as The Bahamas and Caribbean.
Key West Seaplanes is now featured on the cover and centerfold in the current edition of Florida Travel and Life magazine in an article entitled "Island Escapes- Find Your Own Perfect Paradise". The edition showcases Key West Seaplanes' charter services to the most exclusive island resort, Little Palm Island Resort and Spa. The company welcomes media inquiries for filming as well as for photography and specializes in Aerial Photography in Key West and Aerial Videography in Key West and all the surrounding areas.