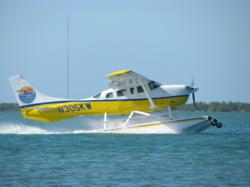 Paradise by Seaplane
Key West, Florida (PRWEB) May 15, 2012
Key West Seaplanes makes the news again with a feature in the acclaimed travel magazine, Florida Travel and Life.
In the current May/June 2012 edition, writer and Features Editor Paul C. Love shares with readers the best way to "Escape to Hidden Islands in Jet-Set Style" with Key West Seaplanes, the region's premiere private seaplane charter company. Passengers routinely fly from the mainland to exotic destinations such as Little Palm Island, Hawks Cay, Cheeca Lodge and private, uninhabited islands for a day of snorkeling and relaxing along side their own private seaplane.
The article entitled "Paradise by Seaplane" introduces company owners Julie Ann Floyd and Nikali Pontecorvo who are both pilots and long-term Key West residents boasting 30 years of flying the Keys and surrounding areas. The duo formed Key West Seaplanes in 2009 and the company continues to expand due to the convenience and comfort of traveling via seaplane to private island destinations in the tropics. Owner Julie Ann Floyd states "Not only is seaplane travel convenient it is fun and exciting....though the private nature of all of our flights also makes it peaceful, relaxing and wonderfully romantic.....There is certainly something in it for everyone!".
Key West Seaplanes has recently expanded it's fleet with the addition of a custom-designed and custom-built amphibious Cessna 206 luxury seaplane. The company joined with Wipaire, Inc of So. St. Paul, MN to create this seaplane pilot's dream aircraft. The seaplane was completed in January, 2012 and is now a working member of the Key West Seaplanes commercial fleet.
The numerous modifications and upgrades to the this new seaplane make it a one-of-kind aircraft that also was recently awarded "Grand Champion" Seaplane at the 38th Annual Sun-n-Fun International Fly-in and Expo last month in Lakeland, Florida. "Our passengers get the opportunity to fly in this amazing Grand Champion Seaplane!" Floyd excitedly proclaims. "The modifications to this luxury seaplane add vastly to it's safety, fuel economy and comfort....It is also quieter and friendlier to the environment".
Little Palm Island seaplane charters are very popular for passengers flying with Key West Seaplanes. Many originate at Miami International, Watson Island Seaplane Base, Fisher Island, and Ft. Lauderdale. However, the company's private service spans the full state of Florida and beyond. Many flights originate in Naples, Sarasota, Boca Raton and Orlando. The company's seaplanes are amphibious, enabling them to land on water and also on land. Many passengers originate their travel at a land-based airport and are whisked away to their private tropical escape with a water landing. Key West Seaplanes also offers conventional/wheeled airplane charter options.
Key West Seaplanes trips to The Bahamas/Caribbean are also another option for private seaplane charter services. The company looks to expand seaplane service to Cuba in the near future.