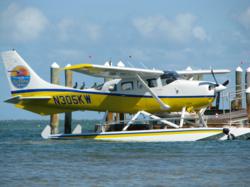 Grand Champion seaplane at Air Show
Key West, FL (PRWEB) February 07, 2012
Key West Seaplanes, the region's long-established seaplane charter company has expanded it's fleet. This newest aircraft is a custom-designed and custom-built Cessna 206 seaplane created by Wipaire, the world's seaplane authority and Key West Seaplanes. This aircraft has been named "Grand Champion" seaplane at the 38th annual Sun n' Fun International Fly-in and Expo in Lakeland, Florida!
When the need arose to add to their seaplane fleet, Key West Seaplanes teamed with the world-famous Wipaire, Inc of So. St. Paul, MN. This new custom aircraft now provides seaplane tours of Key West as well as charters all over the state of Florida, The Bahamas and Caribbean. The one-of-a-kind luxury Cessna 206 seaplane now takes private seaplane travel to the next level. The competition at the Sun n' Fun air show was stiff but judges awarded this commercially operated seaplane the "Grand Champion" award. Aircraft owner, Julie Ann Floyd was on site to accept this coveted recognition.
Wipaire is most often known as the leading designer and manufacturer of Wipline floats. This world-class seaplane authority has been engineering and building the highest performing and most popular aircraft modifications since 1960. Now they have created a one-of a-kind and first-of-its-kind seaplane expressly for Key West Seaplanes.The modifications to this private charter seaplane include many that increase safety, reliability fuel economy and passenger comfort. The aircraft has arrived in Key West and is on line as a formal member of the Key West Seaplanes fleet.
This addition to the Key West Seaplanes' fleet comes as the company is in the midst of another season of providing private seaplane service for adventurous travelers from all points on the mainland to Little Palm Island (listed on Conde' Nast Traveler's "Top 100, The Best in the World" list). This exclusive seaplane charter company also routinely also provides service to other world-class resorts in The Florida Keys such as Hawks Cay and Cheeca Lodge. Despite all these destinations, Key West Seaplanes-Little Palm Island is one of the most popular routes of private seaplane charter travel. Guests now travel in this award-winning seaplane on a daily basis.
In addition, Key West Seaplanes provides full charter service from Florida via seaplane to The Bahamas and Caribbean. Private charter guests may depart from almost any point on the mainland of Florida as well as The Keys and Key West. The company's seaplanes are amphibious, thus enabling them to land on water as well as on land. Other aircraft in the company's fleet include options for conventional, wheeled aircraft in addition to many seaplane options.
Key West Seaplanes is based in Key West, Florida and is owned and operated by long-term local residents, Julie Ann Floyd and Nikali Pontecorvo. The duo are both accomplished commercial seaplane pilots who created the company in 2009. The company has received recent accolades that include having it's Little Palm Island seaplane service featured on a current episode on The Travel Channel and in the December 2011 edition of FLYING Magazine. Key West Seaplanes is also seen in the latest issue of Water Flying Magazine, the official publication of the Seaplane Pilot's Association.
###