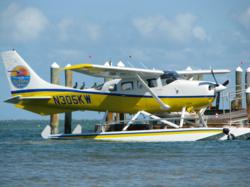 We are proud to receive a VISIT FLORIDA tourism grant...
Key West, FL (PRWEB) July 31, 2012
VISIT FLORIDA, the state's official source for travel planning has awarded a Tourism Grant to Key West Seaplanes for the 2012-2013 fiscal year which began July 1, 2012. The well-known and recognized seaplane charter company is the region's largest operator of seaplane charter services for The Florida Keys, all the mainland of Florida as well as The Bahamas and Caribbean. Key West Seaplanes offers private seaplane charter services to many exclusive Keys island resorts and restaurants. They also provide service to private water front homes, private yachts as well as other destinations such as camps and beaches.
Key West Seaplanes is the originator of "Island Hopping" in The Florida Keys and reminds all passengers that "No passport is required!" for island hopping all along the entire Keys chain which is located completely within the boundaries of The United States. Passengers use this most unique and versatile mode of air travel to explore The Keys, often stopping at numerous destinations in a single day. The owners of Key West Seaplanes, Julie Ann Floyd and Nikali Pontecorvo are proud to be chosen as grant recipients to further the marketing and expansion of these amazing and unique seaplane services. Pontecorvo says, "We often have passengers originate in Miami at Watson Island Seaplane Base or a land-based airport such as Miami International. After take-off we proceed along The Keys chain at low-level for incredible aerial sightseeing, then we stop in the Upper Keys for breakfast or brunch, then continue on to a private, uninhabited island for splashing and snorkeling. Passengers often think there's no way we can top that experience until we make another stop at Little Palm Island for a late lunch or early dinner". Passengers often choose to spend the night in Key West while some return to their original point of departure the same day. Floyd excitedly says, "The options for this type of Island Hopping experience are unlimited! We often build custom day trips and other unique multi-day trips for passengers desiring a one-of-kind seaplane Island Hopping experience!"
Floyd states, "We are thrilled that VISIT FLORIDA and Enterprise Florida selected Key West Seaplanes from a very large number of grant applicants during their most competitive grant cycle to date!" She adds, "These funds will be used for the further promotion and expansion of Key West Seaplanes' Island Hopping Services and will help us better position and market all of The Florida Keys and Key West as desirable destinations." The seaplane company provides service to amazing destinations such as the world-known Little Palm Island via seaplane and other tropical resorts such as Hawks Cay, Cheeca Lodge and The Moorings.
"The purpose of these grants is to help non-profit entities and local governments stretch their tourism marketing dollars in an effort to expand cultural, heritage rural ans nature tourism activities in Florida," said Chris Thompson, President and CEO for VISIT FLORIDA.
VISIT FLORIDA, a private/public partnership, is Enterprise Florida's day-to-day operating corporation for tourism.
Key West Seaplanes offers service for all the mainland of Florida, all The Keys chain, The Bahamas and Caribbean. Seaplane charters to Bimini, Island Hopping The Keys island resorts and also mainland destinations such as Miami's South Beach, Fisher Island, Marco Island and Naples are among the seaplane company's most desired destinations. Owner Julie Ann Floyd reminds all that, "Our seaplanes are amphibious so they can land on water as well as on land. They are highly versatile and allow you to originate at a large or small land airport and be whisked away to a tropical island destination where you'll arrive beachside or dockside! How wonderful is that?".
Key West Seaplanes has recently expanded it's fleet with the addition of a custom-designed and custom-built luxury seaplane. It was just purchased in January, 2012 and is highly modified to assure passenger safely and comfort. This luxury seaplane is a one-of-a-kind aircraft enjoyed by passengers. The company looks to expand seaplane service to Cuba in the near future.