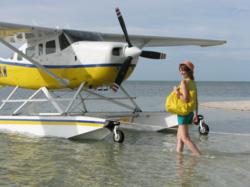 Your private island is calling you....
Key West, FL (PRWEB) January 07, 2013
Key West Seaplanes, the region's premiere seaplane charter company is featured in Pilot Getaways Magazine's current November/December 2012 edition.
In a six-page article headlined as "Fly To A Private Island In The Florida Keys" and titled "Little Palm Island, Florida Keys...Oceanfront Opulence" readers are invited to this private 5-acre "slice of heaven in the lower Florida Keys, accessible only by seaplane or boat". The opening two-page spread showcases a full-color aerial photograph of one of Key West Seaplane's Little Palm Island flights with the aircraft flying right over Little Palm Island.
Writer Heather Saunders Connellee shares her experience at Little Palm Island by reminding readers that "This is a place where your mind can get lost...." so what better way to get there than via Key West Seaplanes where someone else does the "driving"? She informs readers that "For island aerial experiences, Key West Seaplanes offers private seaplane charters, scenic flights and island picnic excursions". The company offers Little Palm Island seaplane service from any point on the mainland, The Florida Keys as well as The Bahamas and Caribbean.
Key West Seaplanes newest seaplane was awarded the Sun-N-Fun Grand Champion Seaplane Award at the most recent expo this past year. This seaplane has brand new high-tech Wipline floats and all the Wipaire mods including a Continental IO-550 engine and McCauley prop for more powerful, yet smoother and quieter operations. "This translates into a more pleasant experience for our passengers" states seaplane owner Julie Ann Floyd. She adds, "This seaplane has other cutting-edge improvements including a co-pilot door and wingtip extensions which add to passenger comfort".
Key West Seaplanes offers flights from any Florida airport to Little Palm Island, The Bahamas, The Caribbean and other locales including Miami and Watson Island Seaplane Base. The Pilot Getaways article also adds that the seaplane company's "Scenic flights will take you over landmarks you wish to see including Key West and the southernmost point of the Continental U.S., lighthouses, Dry Tortugas National Park via seaplane and The Seven Mile Bridge".
Key West Seaplanes is also now proudly featured in the current Water Flying Magazine in an article boasting the company's newest seaplane "which flies seaplane charters out of Key West Florida International Airport is the first commercial seaplane to fly with the new-generation 3450 floats". Key West Seaplanes has partnered with Wipaire, Inc of So. St. Paul, Minnesota in raising the seaplane industry standard with this newest seaplane and there are plans to expand the company's seaplane fleet with similar cutting-edge seaplanes.
Key West Seaplanes is owned and operated by Julie Ann Floyd and Nikali Pontecorvo, both long-term Key West residents with vast experience in flying The Keys, South Florida, The Bahamas and The Caribbean. Key West Seaplanes scenic flights are popular with island visitors while the private seaplane charters to Key West and The Bahamas are popular with travelers seeking the ultimate escape. Floyd reminds all travelers "Our seaplanes are amphibious so they can land on water as well as on land. Guests may originate from a hard-top runway such as Miami International and fly via seaplane to The Bahamas". Of course, she then adds, "It's the most versatile way to travel and it's stress-free".
The company looks to expand it's seaplane fleet this calendar year and is looking forward to expanding their seaplane charter service to Cuba as well.