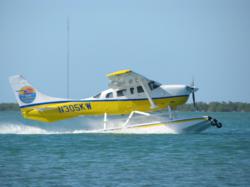 Local pilots prove there's more to Keys than Tortugas
Key West, FL (PRWEB) March 21, 2012
Key West Seaplanes, the region's premiere private seaplane charter company receives accolades again in a recent edition of The Key West Citizen, The Florida Key's most trusted publication. The article entitled "Sky's The Limit...Local pilots prove there's more to Keys than Tortugas" is featured on the front and second page of The Business section in The February 26, 2012 edition.
"Two local pilots are altering the course of seaplanes in The Florida Keys", writes Mandy Miles. Key West Seaplanes was started in 2009 by long-term local Key West resident pilots, Julie Ann Floyd and Nikali Pontecorvo. The duo are proud of their combined 30 year history of flying The Keys, all of Florida as well as seaplane charters to The Bahamas and Caribbean. They have added that expertise to their private air charter service.
Key West Seaplanes has recently expanded its fleet with the addition of a custom-designed and custom-built luxury 206 Cessna amphibious seaplane, purchased just one month ago. This amazing one-of-a-kind seaplane was built for Key West Seaplanes by the world seaplane authority, WipAire of Minnesota. In The Citizen seaplane article, writer Mandy Miles adds that Key West Seaplanes "now boasts the largest air charter fleet in The Keys". This addition to the fleet allows this premiere seaplane service provider to offer expanded luxury seaplane service to Little Palm Island Resort and Spa.
This exclusive seaplane charter company, Key West Seaplanes offers charters like no other company, creating a market that was never explored before. "Our company has never done Tortugas trips" states pilot and co-owner Nikali Pontecorvo. This company with strong local roots aspires to give visitors a trip that is private, quiet and serene. Trips include half day trips to private and uninhabited islands as well as exclusive island resorts such as Little Palm Island, Hawks Cay and Cheeca Lodge as well as The Moorings.
"People hear 'seaplanes' and assume we go to The Tortugas", pilot and co-owner Julie Ann Floyd said in the article. "But Oh my God, there's so many other things to do out there". Key West Seaplanes offers transportation to and from mainland airports as well as private, waterfront residences with appropriate docking facilities.
"Many people don't realize that amphibious seaplanes (like ours) don't have to land in the water and a water landing doesn't mean passengers get wet wading to shore", Pontecorvo said in the article. The company's seaplanes can land on water as well as on land. Often times with a water landing, the pilot sidles the seaplane up to a dock for an arrival. Passengers simply step out of one of the company's seaplanes right onto the dry dock.
Key West Seaplanes offers day and overnight trips to Little Palm Island. Other popular options include aerial sightseeing in the company's seaplanes. The trips start at 30 and 50 minutes giving passengers the opportunity to experience a flight complete with water take-off and landing in one of these amazing "floating flying machines" as dubbed by Miles. In addition to seaplane charters and tours, the air carrier also offers non-seaplane (regular airplane) charters and tours. All flights are private and on a passenger's schedule. "We are selling convenience and time" states Pontecorvo in the article.
Writer Mandy Miles states that Key West Seaplanes with it's aerial sightseeing tours is selling "a world-class view of the island chain from 500 feet in the air. Low-altitude flying offers an incomparable view of the blue-green waters of the Keys".
Pilot and co-owner Julie Ann Floyd excitedly says, "We see turtles, dolphins, stingrays, the reef and shipwrecks". She adds that "We're just trying to get people to realize that there's not just one destination for seaplanes in Key West...The Keys are a seaplane pilot's dream. I fly them everyday and they never lose their beauty." The company offers many private seaplane tours of the area that include the reef, lighthouses and eco-tours of the back country.
Key West Seaplanes also offers private seaplane charter service to The Bahamas and Caribbean. They look forward to adding service to Cuba this year.