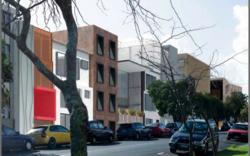 I think this ability to mix the use of buildings is really exciting and suits the make-up of New Zealand businesses perfectly
Auckland, New Zealand (PRWEB) November 28, 2012
Ponsonby, Auckland New Zealand. Vinegar Lane has left a sweet taste in the community of Ponsonby, Auckland. With the opening of the Vinegar Lane precinct and the associated group of terrace houses, small apartment buildings and town houses, the area has experienced increased interest from the community and is enjoying rapid sales.
Said Craig Watkins, of KEY2 Real Estate, the developer who initiated Vinegar Lane, "I think this ability to mix the use of buildings is really exciting and suits the make-up of New Zealand businesses perfectly. Over 80% of companies employ fewer than eight staff yet finding good quality office space is often extremely difficult. Live-and-work options like the Vinegar Lane development offer real choices, both to business owners and to investors."
The design features of Vinegar Lane are have caused the development to see rapid sales. With over half of the units pre-sold already, buyers are seeing the real possibilities for the live-and-work scenario and how it might benefit them. Private landscaped courtyards and small cobbled lanes offer professionals and families alike the opportunity to stay in close proximity to the area they want to work in, while limiting their commute and creating a sense of community. Vinegar Lane appeals to a myriad of different types of businesses, including small businesses that want to security of holding the title to their space instead of leasing, professionals who work from home and need space for a growing organization, or specialty retail space that includes a living area. Watkins said, "Already popular overseas, living and working from the same building provides real freedom to small businesses."
The local government is in support of this type of development as well, contributing to the overall quick sales of the units. Ludo Campbell-Reid, the Environmental Strategy Manager of the Auckland Council and Ree Anderson, the Chief Planning Officer, both support the design and development of Vinegar Lane.
With units ranging from $275,000 to $1.4m for units from 74 square meters to 398 square meters, Vinegar Lane offers the amenities and design innovation that will allow professionals to run their businesses in a live-and-work environment.
For more information or to schedule an interview with Craig Watkins on Vinegar Lane or KEY2, contact Craig at craig(at)key2.co(dot)nz or visit http://www.vinegarlane.co.nz.