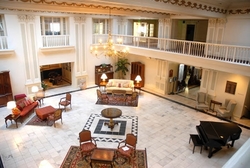 Local businessmen, including namesake George Roberts, commissioned architect Charles W. Nicol to design a grand hotel that would be "the showplace of Muncie."
Indianapolis, IN (PRWEB) June 12, 2010
Muncie's historic Roberts Hotel, once known as the "crown jewel of Muncie," will soon face the auction block. Indianapolis-based Key Auctioneers announced today that it will conduct a court-ordered auction of the hotel on July 14 at 10 a.m. at the hotel. Since its opening in 1922, the elegant eight-story hotel has hosted five presidents and numerous celebrities. It was added to the National Register of Historic Places in 1982.
The hotel, which sits opposite Muncie's downtown Horizon Convention Center, was purchased by Bloomington developer Peter Dvorak in 2004. Two years later Dvorak closed the hotel, and in January 2009 announced a $10 million plan to convert the hotel into luxury apartments. The conversion had just begun when Dvorak suddenly ceased work, citing credit issues related to the subprime meltdown.
For most of its history, the Roberts Hotel was Muncie's most elegant hotel. Local businessmen, including namesake George Roberts, commissioned architect Charles W. Nicol to design a grand hotel that would be "the showplace of Muncie." Nicol designed a classic red brick exterior with indigenous Indiana limestone ornamentation, and an interior with ornate plasterwork and an eye-catching two-story lobby with nine skylights.
The hotel will be auctioned without reserve, according to a spokesman for Key Auctioneers. Also to be auctioned are furnishings and restaurant equipment from the hotel, including a grand piano, historical framed pictures, a massive antique dining table, china cabinets, rugs, and commercial kitchen equipment. By law, proceeds from the sale will be applied to the property's delinquent taxes.
About Key Auctioneers
Key Auctioneers is an Indianapolis-based auctioneer of commercial, industrial, and real estate assets in Indiana, Kentucky, Ohio, Illinois, Michigan, and Missouri. Key Auctioneers provides business owners and secured creditors a full range of services to protect, market and auction business and real estate assets. Key's upcoming auctions include the personal and business assets of Marcus Schrenker, the money manager pilot who attempted to fake his death by parachuting from his private plane; the Paddock, a national muscle car parts supplier based in Knightstown, IN; Downton & West, a major mechanical contractor based in Indianapolis; Fugate Lumber, a 55 year-old lumber company based in Eddyville, KY; and American Liquors, a Terre Haute-based liquor store chain.
# # #