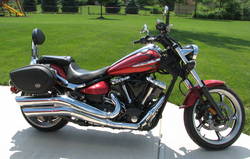 Indianapolis, IN (PRWEB) June 11, 2010
Another chapter in the tragic tale of once high-flying money manager Marcus Schrenker will come to a close with the court-approved auction of Schrenker's personal and business assets. Indianapolis-based Key Auctioneers announced today that it will auction the assets of Marcus Schrenker on Saturday, June 26 in Indianapolis. Among the items to be auctioned are the red 2008 Yamaha 1900CC motorcycle used by Schrenker to evade authorities after faking his death, a 9mm Smith & Wesson handgun, and a $32,000 diamond ring.
Schrenker made worldwide headlines in January 2009 when he attempted to fake his death by parachuting from a private plane that later crashed in the Florida panhandle. He made his way to a storage facility where he had stashed the red Yamaha motorcycle and was apprehended at a Florida campground three days later. The faked death plot came shortly after his wife filed for divorce and his investment advisory business came under investigation for securities violations.
Former Indiana Securities Commissioner O. Wayne Davis was appointed by the Hamilton County Superior Court to manage and distribute Schrenker's assets at the urging of the Indiana Securities Division. The Division sued Schrenker, alleging he had violated the Indiana Securities Act by using investor funds for personal use. Proceeds from the court-approved auction will be held by the Receiver pending Court approval of distributions to creditors.
The public auction will be Saturday, June 26 at 9 a.m. at 5838 82nd St. in Indianapolis. The auction will include furniture, art, jewelry, and other items from Schrenker's Geist Reservoir mansion and ICON Group investment company offices. Items to be auctioned include a Boston baby grand piano, a 29-foot Rinker speedboat formerly docked at Schrenker's "Cocktail Cove" home, diamond rings and earrings, two shotguns, a handgun, a full-sized electronic basketball scoreboard, two's ATVs, three motocross motorcycles, a jet ski, and the red getaway motorcycle. Among the more ironic auction items are several Wall Street-themed art pieces and a large antique wooden airplane propeller.
About Key Auctioneers
Key Auctioneers is an Indianapolis-based auctioneer of commercial, industrial, and real estate assets in Indiana, Kentucky, Ohio, Illinois, Michigan, and Missouri. Key Auctioneers provides business owners and secured creditors a full range of services to protect, market and auction business and real estate assets. Key's upcoming auctions include the Roberts Hotel, a historic hotel in Muncie, IN; The Paddock, a leading national muscle car parts supplier based in Knightstown, IN; Downton & West, a major mechanical contractor based in Indianapolis; Fugate Lumber, a 55-year-old lumber company based in Eddyville, KY; and American Liquors, a Terre Haute-based liquor store chain.
For more information about Key Auctioneers, contact Tim Boeglin at tboeglin(at)KeyAuctioneers(dot)com or (812) 327-5352.
# # #