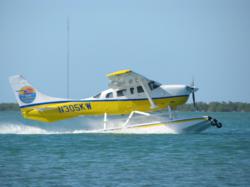 Sky's the limit for charter company
Key West, Florida (PRWEB) April 30, 2012
Key West Seaplanes, the region's premiere and long-established private seaplane charter company receives another accolade with the recognition of it's newest seaplane being named "Grand Champion" Seaplane at the 38th annual Sun n' Fun International Fly-In and Expo held recently in Lakeland, Florida.
It is this same custom-designed and custom-built aircraft that is featured in the current edition of Water Flying Magazine, the official publication of The Seaplane Pilot's Association. The articles touts this newest seaplane as "a highly modified Cessna 206". Writer Mark Twombly quotes aircraft owner Julie Ann Floyd who excitedly announced that the modifications to this new seaplane will "enhance safety, performance, reliability, fuel efficiency, and passenger comfort while enabling quieter operations". She later adds that the new seaplane possesses all possible cutting-edge technology available to any seaplane of it's kind.
The current Water Flying article (March/April 2012 edition) marks the second time the exclusive seaplane charter company has been featured in Water Flying Magazine. Key West Seaplanes also appeared in the March/April 2011 a year ago in an article titled "Friend-Raising in The Conch Republic" (a.k.a. Key West). Key West Seaplanes charter services were featured in the edition. In this article, writer and then Seaplane Pilot Association president Jim McManus urged readers to "Go all the way- to the southernmost tip of the Continental U.S." to catch a flight!
Just three months ago, the exclusive private charter company, Key West Seaplanes expanded it's fleet with a custom-designed and custom-built Cessna 206 amphibious seaplane. The company teamed with Wipaire of So. St. Paul, Minnesota to create this one-of-kind dream commercial aircraft. Both companies rejoice in the fact that this incredible flying machine has been named "Grand Champion" seaplane at the 38th annual Sun n' Fun International Fly-In and Expo.
Key West Seaplanes owners, Julie Ann Floyd and Nikali Pontecorvo are proud members of The Seaplane Pilot's Association. Both are commercial seaplane pilots who possess over 30 years combined experience flying The Keys, all of Florida and The Bahamas and Caribbean. They created Key West Seaplanes with the goal of sharing the beauty and convenience of seaplane flying with others. Common destinations include Key West, seaplane charters to Little Palm Island and other island resorts in The Keys, Marathon, Miami, Naples/Marco Island, The Bahamas and beyond. The company's seaplanes are amphibious, thus allowing them to land on water as well as on land. The world-famous Wipaire seaplane floats possess retractable gear/wheels making the seaplanes most versatile for travel from airports to seaplane bases such as Watson Island Seaplane Base in Miami and to many exotic off-airport sites such as Little Palm Island, Hawks Cay, Cheeca Lodge, The Bahamas and Caribbean and many uninhabited, private islands.
Key West Seaplanes continues to expand with increasing numbers of flights between Orlando and Little Palm Island as well as flights from Ft. Myers to Key West. The air charter company looks to expand with flights to Cuba this year.