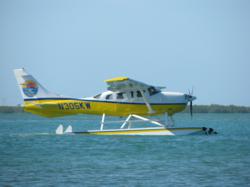 Featured in Water Flying Magazine...
Key West, FL (PRWEB) April 24, 2012
Key West Seaplanes, the region's premiere seaplane service is featured in the March/April 2012 edition of Water Flying, the official publication of The Seaplane Pilot's Association. The article showcases the newest edition to the Key West Seaplanes' fleet, a custom-designed and custom-built Cessna 206 seaplane.
Key West Seaplanes' new custom Cessna 206 was built by Wipaire, the world-class seaplane authority located in So. St. Paul, Minnesota. The companies came together to create the seaplane pilot's ultimate dream seaplane. The project started last fall and was completed in January, 2012. This luxury one-of-kind is now a working member of the Key West Seaplanes fleet.
Water Flying Magazine showcases this luxury aircraft as a seaplane pilot's dream aircraft in the current edition of Water Flying. Passengers who fly with Key West Seaplanes routinely now fly in this new seaplane to great tropical destinations such as seaplanes to Little Palm Island, Hawks Cay, Cheeca Lodge and The Moorings. Many other charter options utilize this newest member of the Key West Seaplanes fleet such as Watson Island Seaplane Base in Miami, Miami International, Ft. Lauderdale, Naples and beyond. This seaplane has recently carried travelers to Fisher Island, Orlando and Ocean Reef.
Key West Seaplanes newest seaplane was also just recognized as "Grand Champion" Seaplane at the 38th Annual International Fly-in and Expo held a few weeks ago in Lakeland, Florida. This international airshow is the second largest event of it's kind in the world. Seaplane owner and pilot, Julie Ann Floyd was on hand in Lakeland, Florida to accept this award. She states "I am proud to accept the award of Grand Champion Seaplane...but am even more proud to announce that this amazing seaplane is part of our fleet of aircraft, available to travelers flying with us. It's gorgeous and wonderfully comfortable....and on the inside it's safe and reliable." Floyd invites all to travel with the company for a flight to Key West, Little Palm Island, seaplanes to The Bahamas or even for a local 30 or 50 minute sightseeing trip around Key West and The Florida Keys. "Come, Fly With Us!" she says.
Key West Seaplanes private charter company is owned and operated by Julie Ann Floyd and Nikali Pontecorvo, both long-term local residents of Key West who started the exclusive company in 2009. Both are commercial seaplane pilots who have a combined 30 years experience of flying The Keys, Key West, all of Florida and The Bahamas/Caribbean. The company looks to expand this year with seaplane flights to Cuba.