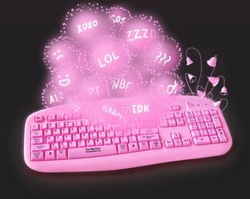 The keyboard also makes an important fashion statement. It is definitely more than just a keyboard
Washington D.C. (PRWEB) March 24, 2009
Keyboard For Blondes and Legally Blonde, The Musical joined advertising forces for the first time. WTVX ran the TV ad campaign for the show featuring Keyboard For Blondes. The OMG-talking keyboards were demonstrated and sold during the show times of the musical. The featured product consistently attracted crowds of all ages eager to play with the novelty keyboard. "Yes! I want it!" sound effects of keyboard were echoed by those of spectators.
"It's difficult to imagine a more perfect co-ad than these two complimentary products. We are thrilled to be a part of it," said spokesperson for the company, Irene Hurley. Just like the lead character of the musical, Elle Woods, the keyboard has more going for it than just looks.
For years, blondes have been admired and vilified for their hair, from "blondes have more fun" to blonde jokes, there's definitely something special about being blonde.
Now, finally, blondes may have their revenge, in the guise of their own computer keyboard, bright pink, of course (perhaps to match their lipstick). And it's not only pretty in pink, but the keyboard talks, too (in valley girl talk, Oh My Gosh).
Although this reasonably priced ($49.95) keyboard is great as a gift, it is a fully functional keyboard that is comfortable to use and a perfect way to replace that tired old boring keyboard that came with the computer. It is a hit with blondes, of course, (and their significant others), but one doesn't have to be blonde to enjoy its features. Anyone can be a blonde with this keyboard, especially those who like pink. Blonde, brunette or redhead - everybody can have fun with this keyboard.
The keyboard, when used in an office or at school, attracts attention where it lands. It is an attention getter, and screams for attention: Blondes do have more fun.
"The keyboard also makes an important fashion statement. It is definitely more than just a keyboard," said Irene Hurley.
Keyboard For Blondes is manufactured by European Trends Etc. It is the only keyboard on the market that talks to you. Equipped with downloadable software. Fully functional keyboard with over 100 unique sound and word effects. As featured on Fox National News. Keyboard For Blondes ™ and its Keyngury ™ software is available now at http://www.KeyboardForBlondes.com.
###