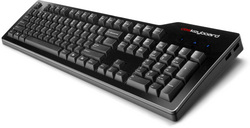 If you spend eight hours a day typing on a keyboard it might as well be on a keyboard that offers the best typing experience possible
Austin, TX (PRWEB) July 15, 2009
Das Keyboard (http://www.daskeyboard.com), a division of Metadot Corporation and renowned for its award winning Das Keyboard Professional and Ultimate keyboards, announced today the availability of keycap sets for Mac and Linux enthusiasts. Now Mac and Linux lovers can easily replace Windows® keys with a set of Mac or Linux keycaps. The keycap set includes the Mac command, alt/option keys and Linux keys that have images of Tux, the Linux penguin mascot. The Das Keyboard is compatible with Windows, Linux or Mac OS X and does not require the installation of software or drivers.
Since the Das Keyboard's introduction to the market its popularity has continued to grow as its ability to reduce user-fatigue and increase productivity has become recognized. Known as audio-tactile feedback, German-engineered mechanical key switches are behind the distinct "click" of each keystroke, resulting in a typing experience that is more crisp, decisive and fast.
"If you spend eight hours a day typing on a keyboard it might as well be on a keyboard that offers the best typing experience possible," said Daniel Guermeur, creator of Das Keyboard and CEO of Metadot Corporation. "Not surprisingly, Mac and Linux enthusiasts are part of our community, and we wanted to offer them the keycap designs they are used to."
Known as the "clicky" keyboard that is surprisingly addictive, key features include:

Gold-plated mechanical key switches, engineered by German-based Cherry Corporation
Two high-speed USB 2.0 ports for syncing and charging USB devices
A sleek, glossy black surface with blue LEDs
An extra long 6.6 foot USB cable which easily extends through your desk grommet to keep your workspace tidy
For more information about the new Mac and Linux keycap sets and the Das Keyboard, please go to Das Keyboard.
The keyboards are available in the U.S. at the following retailers: Micro Center and J&R. Internationally, the keyboards can be purchased in Europe through GetDigital, in Canada through TekGear and in Australia through AUSPC Market Online.
About Metadot Corporation
Metadot Corporation, a privately held technology company headquartered in Austin, TX, is dedicated to delivering innovative software and hardware technology products for use by non-technical and technical people alike. Metadot's easy-to-use products are designed to shorten the path to productivity and thus drive down operational costs today. Metadot's products are used by prestigious organizations such as MIT, Guaranty Trust Bank, University of Minnesota, Washington Mutual and the United Nations.
Metadot and Das Keyboard are either registered trademarks or trademarks of Metadot Corporation.
# # #