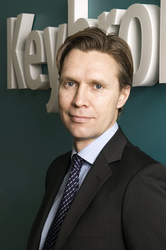 The market for online advertising is growing fast and the media market is evolving in a fundamental way. In Keybroker we found a company that is driving this change, has a proven track record and the potential to play a leading role in the European online market
Stockholm, Sweden (PRWEB) February 25, 2008
Investor Growth Capital (IGC), the wholly owned venture capital arm of Investor AB, invests € 5 million ($7.5 million) in the leading Nordic search marketing company Keybroker AB. The new capital will be used to continue development of Keybroker's search advertising system CampaignControl™, to reinforce Keybroker's strong Nordic market position and drive Keybroker's further expansion into the UK, France and Germany.
Fredrik Arnander, founder of Keybroker, will lead the European expansion as new group CEO. Co-founder Fredrik Holmén will head Keybroker's continued development of world class technology for result-based online marketing as President of Products & Technology.
"The search advertising market is continuing to grow with double-digit figures across Europe. This is a very exciting market and with Investor Keybroker has found a perfect industrial and international partner for further European expansion," said Fredrik Arnander.
"The future of advertising is digital, result based and exactly measurable. The right technology will be the difference between winning and losing in this financially driven market. At Keybroker, we are very excited to increase and accelerate our systems development and to launch new winning products," said Fredrik Holmén.
Keybroker has quickly established a leading role in the Scandinavian search market through an innovative pricing model, advanced technology and a proactive international delivery centre. Keybroker's clients include leading internet travel companies the Opodo Group and eBookers, financial services company American Express and world class brands such as Absolut Vodka.
"The market for online advertising is growing fast and the media market is evolving in a fundamental way. In Keybroker we found a company that is driving this change, has a proven track record and the potential to play a leading role in the European online market," said Mikael Johnsson, Investor Growth Capital.
For additional information, please contact:
Fredrik Arnander, Tel. +46 8 510 617 00
Read more about Keybroker at Keybroker's website
Mikael Johnsson, Investor Growth Capital, Tel. +46 8 614 20 00
Read more about Investor Growth Capital at Investor's website
About Keybroker
Keybroker (http://www.keybroker.com) delivers increased online sales for major advertisers through search advertising (sponsored links) on the Internet, from an international Delivery Centre in Stockholm. Keybroker develops advanced technology -- the CampaignControl™ platform -- for large scale campaign management and automated advertising processes. Keybroker AB is the parent company of Keybroker Scandinavia (operations in Sweden, Norway, Finland and Denmark), led by managing director Jennie Skogsborn.
About Investor Growth Capital
Investor Growth Capital is the wholly owned venture capital arm of Investor AB (Investor). Investor, publicly traded on the Stockholm exchange, is the largest listed industrial holding company in the Nordic region. Since its formation in the mid-1990s, Investor Growth Capital has continued to invest in high-quality, growth-oriented companies, primarily in the information technology and healthcare industries, in North America, Northern Europe and Asia.
# # #