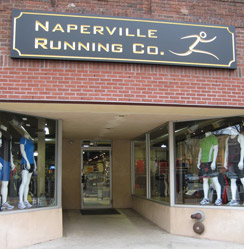 Some people live and breathe running, it's gone way beyond a daily jog into a lifestyle.
Downers Grove, IL (PRWEB) April 25, 2013
Partnering with small companies to create custom web technology in order to build their brand awareness and engage their customers is KeyLimeTie's strength. KeyLimeTie is a full-service design, development, and digital strategy agency specializing in web and mobile technologies across a variety of platforms. When Naperville Running Company, a boutique store that specializes in running shoes and guidance, wanted to create a suite of mobile applications as well as an optimized mobile website, they enlisted KeyLimeTie to be their technology partner.
"Running is more than just a hobby to dedicated enthusiasts these days and that includes me," said Brian Pautsch, co-founder and president of KeyLimeTie. "Some people live and breathe running, it's gone way beyond a daily jog into a lifestyle. And, we wanted to create a mobile app for clients of the Naperville Running Company that they could incorporate into their daily running life."
Naperville Running Company partnered with KeyLimeTie to launch an app that would offer a benefit to their community of running clients. The result is mobile apps for iPhone, Android, and Windows phones that provide the latest news and events from the running store as well as a pace and time calculator. Dedicated customers of the store who like to attend the running clinics and special store events can stay up to date with the mobile app's events calendar and latest news feeds. The highlight of the app is the pace calculator that allows users to input their desired distance and anticipated time in order to calculate pace or key desired distance and pace to determine how long their run will take.
The Naperville Running Company's mobile app is aptly called the NRC Runner app, and it is available for download in the App Store for iPhone, Google Play for Android, or the Windows Phone store.
In addition to the mobile apps, KeyLimeTie also developed a mobile optimized website for Naperville Running Company. Now, when smartphone users browse the Naperville Running Company website on their mobile phone browsers, they will view the mobile optimized version of the website which is much easier to navigate. The mobile experience makes it easier and quicker to find information on the Naperville Running Company website such as the next running clinic or information for a 5K race.
"We listen to the needs of our customers in order to create a mutually beneficial product for both the client and their customers," said Pautsch. "We aim to create custom and affordable mobile apps for companies of all sizes."