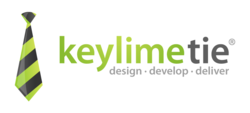 "We are very proud of the product we have created and the capabilities we are sharing with our customers."
(PRWEB) February 28, 2013
KeyLimeTie, an interactive design and development agency specializing in web and mobile technologies and SimpleBuild™ Group, an innovative construction management company specializing in project management applications, have partnered to create an optimized mobile application for custom home builders. Recognizing a growing need for homebuilders and remodelers to easily manage their projects from start to finish, collaborative work began in 2011 on production of an innovative software application for industry professionals.
Officially launched at the National Association of Home Builders (NAHB) International Builders' Show in January 2013, SimpleBuild™ Group's online construction management application garnered rave reviews for its ability to streamline the construction process. Specially designed with the input of builders, contractors and their customers, the application enables custom home builders to track their progress, store plans and drawings, assign and schedule daily operations, and even note storm reports and OSHA requirements. Customers can log onto the application and see the progress of their home, further engaging them in the home construction process. And with the capabilities to be viewed on desktop computers, laptops, tablets and smartphones, the application is convenient for on-the-job use.
"The collaboration between KeyLimeTie and SimpleBuild™ Group has been very rewarding," said Chris Pautsch, Co-founder and chief executive officer, KeyLimeTie. "To have our vision come into fruition in such an innovative product, is a testament to the dedication and skill of both agencies and signifies the beginning of a constructive partnership. We are excited about moving forward in our relationship with SimpleBuild™ Group."
Recognizing the capabilities of SimpleBuild™ Group's product to propel the home construction workforce to the next level, the editors of Builder Magazine, the leading brand and trusted source for top builders, architects and other industry professionals and the official magazine of NAHB, named the application as one of the "Top 8 Product Finds" of the show.
"We are very proud of the product we have created and the capabilities we are sharing with our customers," said Clay Miller, Co-Founder and President of SimpleBuild™ Group. "To be recognized as one of the top products by Builder Magazine is above and beyond what we ever expected."
***
About KeyLimeTie, LLC:
KeyLimeTie is a full-service design, development and digital strategy agency, helping clients communicate more effectively and intimately with their customers through interactive marketing channels. Specializing in web and mobile technologies across a variety of platforms, KeyLimeTie provides content management, ecommerce, and custom application solutions, while also assisting customers with social media campaign and reputation management. For more information about KeyLimeTie and its services, please visit http://www.keylimetie.com.
About SimpleBuild™ Group:
SimpleBuild™ Group is an innovative home construction company responsible for developing the industry's first online project management application. SimpleBuild™ Group understands the frustrations of of home construction projects and is dedicated to creating an easy-to-use online project management platform for homebuilders and remodelers. For more information about SimpleBuild™ Group and its services, please visit http://www.thesimplebuild.com.