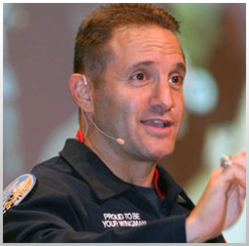 "By creating an environment of mutual support and accountability, you will increase your organization's ability to attract and service more customers, beat your internal and external competition, and win in the marketplace."
Atlanta, GA (PRWEB) November 28, 2012
"Skyfall," the newest blockbuster for the James Bond franchise, broke all previous Bond flick records in its opening weekend! It seems that the public can't get enough heart stopping, jaw dropping, deeds of bravery. One man who doesn't need to go into a theatre, but instead into his own memory banks for such experiences, is decorated fighter pilot, businessman, and keynote speaker Lt. Col. Rob "Waldo" Waldman.
Waldo, known in business circles as, "The Wingman", is now applying the lessons learned during his combat years to inspire a new generation of business leaders through his motivational seminars and keynotes. As one of the most dynamic motivation speakers on stage, Waldo uses these seminars to train and inspire businesses on how to focus on thriving, rather than surviving. Waldo states that, "By creating an environment of mutual support and accountability, you will increase your organization's ability to attract and service more customers, beat your internal and external competition, and win in the marketplace."
The Wingman offers two highly rated Peak Performance seminars for clients: "Never Fly Solo!" and "Wingman Leadership." Both seminars focus on proven strategies that allow businesses to always operate at their peak performance. Visit Your Wingman on the web for Peak Performance seminar information, clips, and powerful testimonials from some of today's top corporations and keynote speakers.
About Your Wingman:
Keynote motivational business speaker Lt. Col. Rob "Waldo" Waldman – The Wingman – is a professional business motivational speaker and author of the New York Times and Wall Street Journal bestseller Never Fly Solo. He teaches organizations and individuals how to build trusting, revenue producing relationships with their employees, partners, and customers while sharing his experiences as a combat decorated fighter pilot and businessman. For more information on Waldo as one of the countries top business keynote speakers, visit http://www.yourwingman.com.