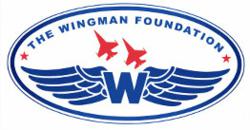 "The purpose of The Wingman Foundation is to help recognize these special heroes and inspire Americans to give back to those who gave."
Atlanta, GA (PRWEB) December 03, 2012
In the aftermath of Hurricane Sandy, the thousands of Americans affected by the disaster have been touched by the outpouring of support from the nation. The nation may be divided on many issues, but always pulls together to help our fellow Americans in times of need.
Some brave young men and women don't need to wait for a national disaster to do whatever it takes to serve the public. The heroes of our military risk life and limb to protect the American way of life, each and every day.
One man, who has been in those boots, has chosen to use his post-service success to honor outstanding soldiers through his charity, The Wingman Foundation. Decorated combat fighter pilot, keynote speaker, and founder of Your Wingman, Lt. Col. Rob "Waldo" Waldman, along with his brother, established a charity that honors courageous service members with, "The Ultimate Wingman" award. Waldo explains that the purpose of The Wingman Foundation is to, "…help recognize these special heroes and inspire Americans to give back to those who gave."
On November the 15th, 2012 Lt. Col. Rob "Waldo" Waldman spearheaded a charity event that brought in over $20,000 to veterans. The entire purpose of The Wingman Foundation is to be able to honor the veterans and soldiers who have served this country by giving back.
For more information on The Wingman Foundation, its mission, donor information, and sponsorship opportunities, visit https://theultimatewingman.com.
Lt. Col. Rob "Waldo" Waldman is one the countries top motivational keynote speakers and inspires thousands of professionals. Being a motivational speaker, he is able to help bring awareness to this foundation through his motivational seminars and keynote addresses.
About Your Wingman:
Lt. Col. Rob "Waldo" Waldman – The Wingman – is a highly sought after business keynote speaker and author of the New York Times and Wall Street Journal bestseller Never Fly Solo. As a business speaker he teaches organizations and individuals how to build trusting, revenue producing relationships with their employees, partners, and customers while sharing his experiences as a combat decorated fighter pilot and businessman. For more information, visit http://www.yourwingman.com .