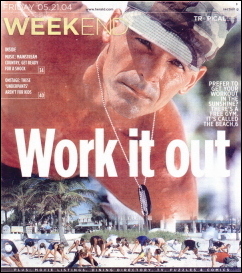 Power Points: Ways to Stay Healthy Throughout Your Life.
Fort Lauderdale, FL (PRWEB) July 20, 2006
Lt. Col. Bob Weinstein, aka the Health Colonel, who was featured on the History Channel, delivered a lively, entertaining and informative keynote to a packed audience of over 400 guests at the Annual Men's Health Conference on June 13, 2006 at South Miami Hospital.
Baptist Health organized once again its Annual Men's Health Conference. The theme this year was "Basic Training for Better Health". Weinstein is a retired U.S. Army Lt. Colonel with 30 years of combined active duty and reserve service. He is based out of Fort Lauderdale and is self-employed with his own business The Health Colonel. He is a speaker, writer and fitness beach boot camp instructor.
Colonel Weinstein's delivered his keynote on "Eight Ways for Men of All Ages to Get and Stay Fit". His approach was both fundamental and profound. Weinstein's eight tips:
1. Develop a philosophy of movement.
2. Break the back of the status quo.
3. Be your own drill instructor.
4. Be an "Excusinator". Eliminate all excuses.
5. Eat close-to-nature.
6. Go around, through or over all obstacles.
7. If you don't have the desire to do it, pretend!
8. Fight victim mentality.
"This conference was an excellent opportunity for me to plant in the minds of those men in attendance, that, there is much that can be done to improve health by taking charge and becoming the decision maker in all life choices instead of allowing the circumstances or others decide for them," Weinstein states.
He started out with a fun and entertaining demonstration of the portability and usage of the resistance band with several volunteers from the audience. After dismissing the volunteers, he motivated the audience to roar at the top of their voices "Feeling good, sir!" as a response to his question, "How's everybody feeling?" after being instructed that this is the only correct response.
The volunteers returned to their seats and Colonel Weinstein then dramatically switched the tone to a much more serious note with his trademark quote, "There are enemy soldiers on American soil. The names of these soldiers are Heart Disease, Cancer and Stroke. They are killing over 3,000 Americans a day."
Internist Alberto Mitrani, M.D. and Orthopedic surgeon Richard Levitt, M.D. followed Lt. Col. Weinstein with their health topics. Dr. Mitrani talked on the topic, "Power Points: Ways to Stay Healthy Throughout Your Life." Dr. Levitt talked about "Range of Motion:
Prevention and Treatment of Knee Problems."
At the conclusion of the keynote and presentations, Colonel Weinstein, Dr. Mitrani and Dr. Levitt formed a question and answer panel for the audience. Questions on health, eating and exercise dominated the topics.
Among the many questions, Colonel Weinstein was asked how much protein we need. He responded, "Protein does not just run around or four or two legs. We have a tendency to count our protein intake by almost exclusively looking at animal products while disregarding plant sources of protein that we take in on a daily basis. The rule of thumb is 80 grams of protein on a 2,000 calorie diet in the United States. The recommended amount varies from one country to the next. We need to make sure that our daily food intake is predominantly made of fiber-based, plant products. Why? Fiber based foods are what I call NDS or Nutrient Delivery Systems so fiber is not just to make sure that things keep moving through the digestive system."
Reservations were taken by calling 786-596-7340. The event took place at South Miami Hospital of Baptist Health on June 13, 2006, 5:30 – 9:00 pm in the Victor E. Clarke Education Center located in Miami, Florida, corner of US 1 and SW 62d Avenue.
Refreshments were served and there were free screenings for cholesterol, diabetes, blood pressure, body fat analysis and leg blood flow (peripheral vascular screening).
For more information on Baptist Health: http://www.baptisthealth.net
About the Health Colonel, Lt. Col. Weinstein:
Lt. Col. Weinstein was born in Washington, D.C., grew up in Virginia and spent 20 years in Berlin, Germany; he is retired from the Army Reserve as a Lieutenant Colonel with 30 years of service and spent about half of that time as a military instructor with the Command & General Staff College.
He has been featured on radio and television, among others, on the History Channel and Fox Sports Net as well as in various publications such as the Washington Times, RAZOR magazine and the Herald.
His background is unique and diverse: military instructor, attorney, motivational speaker, wellness coach, certified corporate trainer, and certified personal trainer. Bob is fluent in German and English.
He specializes in a military-style workout on Fort Lauderdale Beach that incorporates strength, cardio, flexibility and agility training, both personal training and group sessions.
Bob is known as the Health Colonel and is a motivational speaker and is a member of the National Speakers Association. A sample of some of his topics:
Eight ways to get and stay fit at any age.
How to organize and implement a corporate fitness boot camp program.
How to eat for performance and energy.
Five ways to enhance performance and energy.
Six Keys to Permanent Weight Loss
He is a member of the National Speakers Association and the Florida Speakers Association. You can find out more about his programs at http://www.NoMoreCryBabies.com.
He is also presently writing a book on personal development, health and fitness.
His burning desire is to help others lead healthier and happier lives and reduce some of the preventable health-related suffering and deaths caused by an unhealthy lifestyle.
Some of Bob's clients as a speaker: Sony, DHL, American Express, KPMG, AOL Latin America, IBM, AARP and Humana.
###