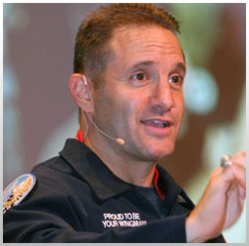 "Success in business and life is not about combat. Rather, it is about camaraderie, courage, and a commitment to excellence."
Atlanta, GA (PRWEB) November 30, 2012
Veteran's Day was filled with parades, tributes, and memories to those brave men and women, past and present, who have bravely given their all for this great country. Though each of their stories inspire the nation with respect and thankfulness, one Veteran's experiences are also being utilized to inspire the business world.
Lt. Col. Rob "Waldo" Waldman, America's top corporate motivational speaker and founder of Wingman Enterprises, applies the lessons and strategies he learned as combat decorated fighter pilot to success in any business field. Waldo offers two dynamic keynotes for businesses looking to thrive in today's market. In his "Never Fly Solo" address, Waldo explains that, "…success in business and life is not about combat. Rather, it is about camaraderie, courage, and a commitment to excellence." The second keynote address/workshop, "Wingman Leadership," equips attendees with the knowledge and skills needed to be effective leaders in the workplace. Waldo also offers customizable experiences suited to the specific needs of a corporation. As a keynote speaker, all presentations are sure to provide an exciting and engaging kick-off to any event.
About Your Wingman:
Lt. Col. Rob "Waldo" Waldman – The Wingman – is one of America's top professional business keynote speakers and author of the New York Times and Wall Street Journal bestseller Never Fly Solo. He teaches organizations and individuals how to build trusting, revenue producing relationships with their employees, partners, and customers while sharing his experiences as a combat decorated fighter pilot and businessman. For more information on how to book a motivational speaker, visit http://www.yourwingman.com.