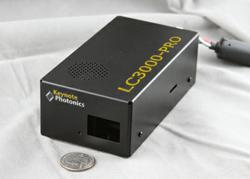 The LC3000-PRO sports a powerful 3-channel LED driver and a rugged chassis.
Plano, Texas (PRWEB) February 04, 2013
Keynote Photonics announced today the LC3000-PRO™, an industrial DLP pico-projector with up to 3x more brightness (approximately 100 lumens) than similar solutions and production ready design for short time to market. The compact design is ideal for hand-held machine vision solutions where brightness is as important as size and weight.
"Keynote Photonics has enhanced the original DLP LightCrafter reference design with a powerful 3-channel LED driver and rugged chassis design." said Adam Kunzman, President of Keynote. "Customers can use the LC3000-PRO projector as-is, in production, or use sub-components of the design for custom solutions."
Get more info on the LC3000-PRO
In addition to the enhanced brightness capability, the LC3000-PRO offers a factory focus lock solution, forced-air cooling, and a standard camera mount. The LC3000-PRO, like the LightCrafter evaluation module, consists of a DLP pico-light engine using a 0.3" WVGA DMD. Keynote's LED driver can be easily adapted by designers to use other LED or Laser sources.
The LC3000-PRO is fully backward compatible with TI's LightCrafter development environment.
Production units are anticipated to ship in 2Q13.
Keynote Photonics will be exhibiting at Photonics West 2013 with Texas Instruments. South Hall, Booth 1331. To schedule a meeting, feel free to send an advance request via our Contact Form.
About Keynote Photonics
Keynote Photonics is a developer of leading solutions, tools and processors for photonics applications using MEMS technologies. Keynote is a privately held company. For more information visit About Keynote Photonics
FlexLight and LC3000-PRO are trademarks of Keynote Photonics.
Other trademarks are those of their respective owners
###