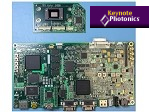 The FlexLight X3 family offers the most flexible platform for creating DLP solutions for machine vision and 3D metrology...
Plano, Texas (PRWEB) May 07, 2012
Today, Keynote Photonics announces the release to production of the FlexLight™ X3 family of DLP Controller solutions and the grand opening our online eStore. Visit the Keynote Photonics eStore
The FlexLight X3 family, which debuted at Photonics West, provides DLP controller solutions targeted at machine vision and other applications such as spectroscopy and UV lithography. Based on customer feedback, the X3 offering was re-partitioned and now offers even more flexibility at lower prices.
The X3 family of DLP controllers now consists of three members:
1) The X3-MVC Machine Vision Controller enables direct control of select off-the-shelf DLP projectors for machine vision applications.
2) The X3-UC1 Ultra Compact offers the X3-MVC with an ultra compact 300 lumen LED based DLP projector.
3) The X3-PM55 combines the X3-MVC with the DLP 5500 0.55" XGA chipset and is compatible with TI's DLP LightCommander™ Software as a foundation for a full custom solution.
The X3 platform was designed to tackle some of the biggest obstacles of 3D metrology systems by providing a powerful programmable and adaptive pattern generation system coupled with a dual camera frame capture and sync function. To learn more, get the FlexLight X3 Product Brief here.
"The FlexLight X3 family offers the most flexible platform on which to create new DLP based solutions. From simple 'direct projector' control to ground-up design of flexible opto-mechanical solutions the platform is ideal for applications such as machine vision and 3D metrology," said Wes Stalcup, Marketing Director for Keynote Photonics. "We believe it will enable system designers to deliver more compact, brighter vision system solutions at lower prices than ever before."
The FlexLight X3 family is available, starting with the X3-MVC, for as low as $1999.00 (USD).
Keynote Photonics will be attending Control 2012 in Stuttgart, May 8-10, 2012.
About Keynote Photonics:
Keynote Photonics is a developer of leading solutions, tools and processors for photonics applications using MEMS technologies.
Keynote is a privately held company. For more information visit About Keynote Photonics
FlexLight is a trademark of Keynote Photonics.
DLP is a registered trademark and LightCommander a trademark of Texas Instruments.