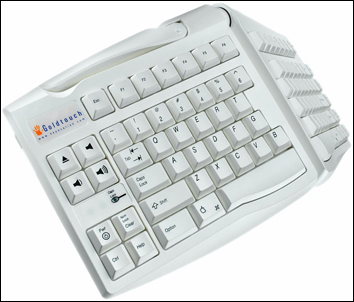 With the release of the Goldtouch for Mac keyboard, it made sense to align ourselves with a partner who understands the Mac audience
Austin, TX (PRWEB) January 8, 2007
Key Ovation, manufacturer of the renowned Goldtouch line of ergonomic products (http://www.keyovation.com), has entered into an agreement with Dr. Bott to distribute the new Goldtouch for Mac - an adjustable ergonomic keyboard designed specifically for the Mac user.
"With the release of the Goldtouch for Mac keyboard, it made sense to align ourselves with a partner who understands the Mac audience," said Peter Gilbert, CEO of Key Ovation, regarding the agreement. "Dr. Bott is a premier distributor of many third party Apple products and has an extensive network of resellers that know their customers and are passionate about the products they represent. We are very pleased to be working with them."
Todd Williams, Product Manager of Dr. Bott, said of the agreement, "We're excited about the partnership with Key Ovation. Now, finally, Mac users have comfort and safety with the Goldtouch adjustable ergonomic keyboard."
The original catalyst for the relationship came directly from Apple itself, a longtime user of the standard Goldtouch keyboard in its own internal ergonomics program.
According to Christopher Lowe, Director of Sales for Key Ovation, "Apple has been recommending the Goldtouch to its own employees for some time now. It was not only their desire for us to produce a Mac-specific version for their personal use at the corporate level; they recognized a gap in the market and put us in touch with Dr. Bott directly so that Mac users around the world could enjoy the benefits of our adjustable ergonomic keyboard in the office environment and at home."
In a further vote of confidence from Apple, Key Ovation is running a pilot program with Apple making available its Goldtouch Keyboard for retail purchase in several high-volume Apple stores including Los Angeles, San Francisco, Chicago and New York City.
Of five keyboard-only reviews featured in the January 2007 issue of Macworld, the Goldtouch for Mac keyboard was given the highest rating (3 1/2 mice).
The Goldtouch for Mac keyboard will be unveiled and available for purchase at this year's Macworld Conference & Expo at the Dr. Bott booth located at S1912, from Tuesday, January 9 through Friday, January 12, 2007.
About Key Ovation
Headquartered in Austin, Texas, Key Ovation offers safety and security solutions for the workplace that impact the bottom line and create a healthier, more productive working environment. Key Ovation is the manufacturer of the celebrated Goldtouch line of ergonomic products for both home and office. Key Ovation's Goldtouch product line includes ErgoSuite, a bundling of ergonomically designed desktop peripherals. Each device has been ergonomically engineered using world-leading technology to help reduce repetitive stress injuries (RSI). For more information, visit http://www.keyovation.com.
To arrange for interviews or images, media should contact Stacy Thal at 415-543-3476.
# # #