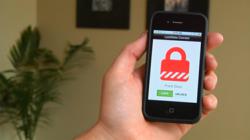 "Temporary codes allow for a heightened level of control through home automation," said LockState Director of Marketing, Rob Goff.
Denver, Colorado (PRWEB) November 15, 2012
Busy homeowners, working professionals, rental property or Airbnb users can now remotely set and change temporary codes on any residential door instantly using the new Internet controlled keypad door lock - the RemoteLock by LockState. This first-of-its-kind, highly secure Web-controlled keypad door lock installs in just minutes without any special equipment and instantly provides heightened home security and home automation. A beneficial feature of the new RemoteLock is its ability to have a temporary code created or changed remotely using an iPhone, Blackberry, Android – or any Web-connected device such as a computer or tablet – with zero distance limitation. For example, a rental property owner in New York or California can easily change the door code for their condo in Florida or Texas. People who work and can't be at home to let in the plumber, house cleaner, baby sitter, pet sitter, neighbor or repair man, can easily set a temporary code allowing that specified person access.
As an added benefit, the RemoteLock integrates with a home's thermostat, power plugs, motion sensors and more. Before a guest arrives at a rental or vacation property, the property owner can make sure the hall lights are turned on, and the temperature is set to a cozy 75 degrees (or the air conditioner is turned on for warmer climates). Property owners can set up customized rules for multiple home appliances as needed. For a limited time, the LockState Connect RemoteLock will be available nationwide for $199 each only at http://www.remotelock.com and shipping starts December 15, 2012 – just in time for holiday gift giving. Free shipping is included within the U.S. After the pre-purchase period expires the price will be $249 each.
"The temporary code feature that comes with our new LockState Connect RemoteLock is perfect for rental property owners, Airbnb users, people who travel or those who work all day and can't let someone in to their home," said LockState Director of Marketing, Rob Goff. "Temporary codes allow for a heightened level of control through home automation. You can remotely create codes which last for a specified amount of time – a few hours, one day or even longer. A real-time text or email alert lets the owner know when someone has arrived or left the property."
Visit http://www.remotelock.com to pre-purchase the new LockState Connect RemoteLock for only $199 for a limited time. Orders will ship by December 15, 2012 and the buyer will not be charged until their RemoteLock ships.
Media Contact
Ria Romano, Partner
RPR Public Relations, Inc.
Tel. 786-290-6413