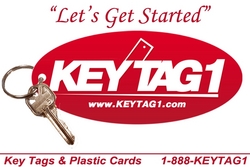 KEYTAG1 has always been known for great service, quick production and fast shipping, and now with our 24 hour sales, customer service lines and free design services, 'If you can think it, we can print it - under budget' has quickly become our reputation
Trumbull, CT (PRWEB) March 31, 2009
One of the largest producers of key tags and plastic cards has recently introduced its Q2-2009 "Let's Get Started" campaign. With the launch of their new 24 hour sales, customer service lines and live design services, keytag1.com designers can create logos and sample proofs around the clock for all of our products. KEYTAG1 has long been known for its laminated key tag and plastic card durability and photo quality printing. The product lines include standard, oval and s-style shaped key tags, gift cards, hanging gift cards, membership cards, combo packs (1-card and 2 key tags) and custom designs.
"KEYTAG1 has always been known for great service, quick production and fast shipping, and now with our 24 hour sales, customer service lines and free design services, 'If you can think it, we can print it - under budget' has quickly become our reputation," said Stan Barski, President.
Why key tags? Customer retention is ever so important especially during hard economic times. With loyalty and membership key tags, your customer feels valued and has the incentive to return to your establishment. Service providers and retail stores alike can offer percentage discounts or punchable key tags for returning customers. Keytag1.com enables potential customers to view creative design and marketing ideas.
KEYTAG1 offers custom card fulfillment services at affordable prices whether you want five orders per day or 50,000 per day. Our fulfillment services are a cost-effective, hands-off way of having your card program custom packaged and sent directly to your customers. Custom fulfillment services include printed personalized letters, match plastic cards or key tags to personalized carriers, insert items into envelopes, affix cards, labels, seal and mail your custom packaged kit.
Contact a sales representative for free samples. Customer satisfaction is guaranteed.
###