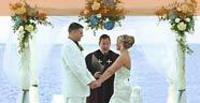 Key West, FL (PRWEB) October 16, 2009 -
The Key West Marriott Beachside Hotel is now offering wedding packages, along with catering and planning services. The packages, catering and planning make having a Key West Beach wedding a reality for people of all budgets and needs.
Those who are looking at weddings and wedding receptions in Key West Florida can choose the Key West Marriott Beachside Hotel in order to receive the planning help they need. Marriott certified wedding planners are used in order to plan the best Key West Beach wedding for guests. During the planning process, the planners will discuss budget, as well as the different wedding packages Key West. The goal of the planner is to take the dreams of the bride and groom and turn them into a reality that will fit their budget.
One important item that must be discussed during the planning stage of the Key West Beach wedding is the menu. The Marriott has exceptional catering capabilities, and catering is available not only for wedding receptions in Key West Florida, but for parties and other social events as well. Breakfast, lunch, dinner, snacks and fully catered receptions are all available.
The venue is also important to brides and grooms. This Key West Hotel has the 5,673 square feet Flager Ballroom. The Ballroom seats 440 guests for large weddings. There are other venues available as well, and the perfect venue will be decided upon during the planning process.
For more information about this key west hotel, visit http://www.marriott.com/hotels/travel/eywmc-key-west-marriott-beachside-hotel or call 1-305-296-8100.
About the Key West Marriott Beachside Hotel
The Key West Marriott Beachside Hotel sits on seven acres and has a private beach. The hotel offers premier event and wedding planning services, as well as catering. The Marriott is a member of the Florida Green Lodging Program and has 87 rooms and 117 suites.
# # #