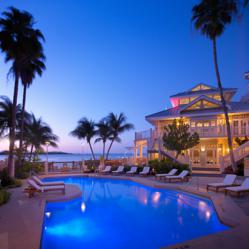 Key West, FL (PRWEB) May 03, 2011
In celebration of Mother's Day, Hyatt Key West Resort and Spa is offering its Awaken package with a spa special throughout the entire month of May. This Mother's Day inspired package includes freshly prepared breakfast, 20 percent off all spa treatments in Jala Spa and a late check out of 1 p.m. Guests can reserve these special amenities by entering code KWMDP upon booking.
The Hyatt Key West Resort and Spa, also known as the "Sanctuary off Duval", is located within walking distance of prime shops and attractions, yet far enough to enjoy the quiet and calming waters of the Keys. Guests can adventure through Key West and explore all the magic that this island has to offer and then come back to the hotel and enjoy the gorgeous sunset at the Blue Mojito Bar.
The Awaken package at the Key West resort helps guests start their day refreshed and renewed with a lavish breakfast at Hyatt's SHOR American Seafood Grill. SHOR's own Chef Daniel Elinan serves up mouth-watering crab frittata, eggs benedict, sticky buns french toast, and much more! While dining, Mom can enjoy the million dollar view in the serene environment of this remarkable restaurant.
Help mom relax at the hotel's award-winning Jala Spa. Tapping the vital life sources that power Key West, Florida's island magic, the spa offers luxurious treatments performed with all-natural products and a delicious menu of treatments to enhance natural beauty. Guests can choose to dip into "Deep" treatments like a Purifying Facial or they can hit the "Beach" with a Brighten-up Body Treatment.
With breathtaking views and top of the line accommodations, the Hyatt Key West Resort and Spa wants guests to enjoy every minute of this Mother's Day inspired getaway. No rush, no-where to be, just kick back, relax and sleep in with a complimentary 1 p.m. late check-out.
About Hyatt Key West Resort and Spa
Located within walking distance of the world-famous Duval Street and Key West's top restaurants and attractions, Hyatt Key West Resort and Spa is a sanctuary on the Gulf of Mexico. The tropically-inspired, full service resort features 118 spacious rooms with private Gulf-view balconies, Hyatt's signature Grand Bed, deluxe bathrooms and wireless Internet access. Other amenities include Jala Spa, which blends the natural delights of the local culture with the science of wellness; a 24 hour StayFitTM gym; and an outdoor swimming pool with spacious sundeck. Fresh favorites of the Keys are on the menu at the casual Blue Mojito Pool Bar and Grill and the classic SHOR American Seafood Grill. For more information or for reservations, visit keywest.hyatt.com or call 1-800-55-HYATT. For the latest news from the resort, visit facebook.com/hyattkeywest or follow us on Twitter @hyattkeywest.
###