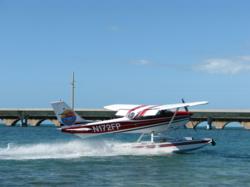 Beauty close enough to touch...
Key West, FL (PRWEB) November 29, 2011
Key West Seaplanes begins another winter season of providing private seaplane charter service to the world-class Little Palm Island Resort and Spa from all points on the Florida mainland and The Florida Keys. One quick visit to the Key West Seaplane's website and the tropical getaway to Little Palm Island begins. Whether a guest travels from the mainland to the island for an overnight, extended stay or simply wants to visit the private island for a romantic island lunch, brunch or dinner...a private seaplane charter on Key West Seaplanes starts the getaway the moment guests board the aircraft. There are also many other wonderfully hidden tropical destinations throughout the U.S., Bahamas and Caribbean the company enjoys sharing with guests.
Key West Seaplanes service to Little Palm Island is featured in this month's current Flying Magazine (December 2011) and can be viewed on your iPad after the easy installation of the free Flying Mag app. "People need to see The Keys the way we see them every day," seaplane pilot and co-owner Julie Ann Floyd said. "I fly every day and they just never lose their beauty. We feel so connected to The Keys, and we want to engage other people in their beauty so they understand our environment and want to protect it." Floyd also adds that the Flying Magazine app is an easy way to enjoy a magazine featuring amazing flying destinations and getaway options via your iPad. Seaplane flying is often the dream of many pilots who wish to shun their polyester uniform, tie and shoes for the tropical island flying with Key West Seaplanes, a company that "requires" seaplane captains wear comfortable cargo shorts and flip flops. Imagine that!
Key West Seaplanes operates year-round with it's busiest months during the winter months when so many travelers wish to escape the cold and snow in other parts of the world. The company also provides ongoing seaplane adventures to guests on Little Palm Island as well as visitors to Key West and The Florida Keys. These seaplane adventures includes excursions to private and uninhabited islands and sand bars, scenic lighthouse and eco-flights as well as day trips to The Bahamas. Many passengers opt for the extended trips to The Bahamas and Caribbean though many passengers choose day trips as a popular last-minute getaway. Key West Seaplanes is based at The Key West International Airport. The seaplanes are amphibious, thus allowing them to land on water as well as on land.
Key West Seaplanes offers many options for visitors to Key West that include the island, reef and lighthouse tour via seaplane or airplane. These tours are reasonably priced and are geared at getting visitors up in the air (and on the water). The company also offers half and full day island getaway excursions to private and uninhabited islands throughout The Keys and the state of Florida. Visitors in Key West even have the option of a day trip to The Bahamas via a quick direct flight via seaplane.
Key West Seaplanes launches another winter season by continuing to offer the Key West Seaplanes Wedding, with destinations unlike any other destination wedding option. The "event" can be as simple as a seaplane, the pilot and an exclusively private destination...or can include larger parties with more than one seaplane.
Key West Seaplanes is proud to boast of amazing aerial sightseeing and aerial photography options and accomplishments like no other. The fleet of seaplanes and airplanes have recently filmed for CNN and American Airlines among many other national as well as regional and local entities. These Key West Seaplanes and Airplane flights offer abundant opportunities for the novice photographer to appear like a pro.
Key West Seaplanes is locally owned and operated by long term Key West "locals" Julie Ann Floyd and Nikali Pontecorvo who have 30 years combined experiene of flying The Keys, Key West, all Florida as well as The Bahamas and Caribbean. The duo met ten years ago and began the journey of building a seaplane operation in Key West. As the fleet of aircrafts grows, as do the destinations. The company looks forward to adding private seaplane charter flights to Cuba in the new year.
Key West Seaplanes Online reservation request system is available 24 hours/day to book a private seaplane or airplane charter or tour.
###