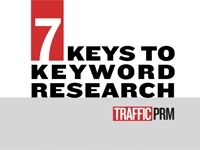 Our free keyword research guide is designed to help PR pros and marketers better understand the keyword research process.
Saint Louis, MO (PRWEB) December 7, 2010
A free keyword research guide from TrafficPRM is designed to help marketers unfamiliar with SEO and Internet search marketing get more out of their efforts around content marketing, inbound marketing and public relations.
"7 Keys to Keyword Research" provides an overview of the keyword research process. It is available as a free PDF download to anyone who wants to learn more about how to identify, evaluate and use the best and most relevant keywords for their business or organization.
"Our 7 Keys to Keyword Research is meant to provide an overview of the keyword research process for those who are new or would like to know more about SEO and organic search optimization. We hope marketers will find this useful for deriving the best keywords no matter what kind of marketing they do," said Brian Posnanski, principal of TrafficPRM. "There is a real convergence going on between marketing disciplines, including PR and search. Marketers and public relations professionals are becoming more aware of what they can accomplish through search and social media marketing, and keywords are a big part of that."
"Keyword research is an investment of time and effort that every organization needs to make, but too often we see organizations taking shortcuts by simply getting a list of keywords from Google Adwords," added Posnanski. "That's not going to work."
7 Keys to Keyword Research can be downloaded from http://www.traffic-prm.com/how-we-see-it/downloads as well as the major document sharing sites such as Slideshare and docstoc.
TrafficPRM is a PR and online marketing firm based in St. Louis. The agency works with B2B and B2C companies and takes an integrated approach to public relations, SEO and social media marketing.
# # #