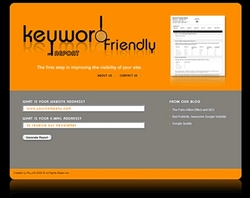 If you were to go on a diet, the first thing you'd do is weigh yourself. To make your site more visible, it's important to track basic information like your page rank so you're better able to measure your progress
New York, NY (Vocus) March 26, 2009
Companies hoping to increase their online presence will benefit from KeywordFriendly.com, a new, free online tool that provides valuable information about websites, such as how they rank with Google, the most frequently occurring words on their website and much more.
Leading IT company Pillar Consulting Corp. recently launched this innovative service, helping companies analyze KeywordFriendly.com Reports and develop cost-effective strategies to increase online visibility.
"Given the current economic downturn, it's a great time for companies to take advantage of free, organic methods to improve their visibility on the Web," said Richard Lee, Chief at Large of Pillar Consulting Corp., the creators of KeywordFriendly.com.
"If you were to go on a diet, the first thing you'd do is weigh yourself. To make your site more visible, it's important to track basic information like your page rank so you're better able to measure your progress," Lee continued.
The Pillar team often recommends that clients include a blog on their website because it's an extremely affordable way of delivering their messages.
"Blogs have become incredibly popular, and blogging is a lot like issuing a press release. Key audiences - including reporters, potential site visitors and even search engines - pick up key words from the blogosphere, making it a great way to drive additional traffic to your site," Lee explained.
Years ago, search engines relied on website owners to honestly and accurately describe their Web pages, but unfortunately, not everyone complied. Some either inadvertently or blatantly misrepresented themselves. Today, Google must provide quality search results, and this is based on the content of your website that humans read, not what is buried in the code, under the hood. This is also based on how often this same message appears on other websites, especially popular and respected sites. So it's more important than ever to provide the right keywords to maximize search engine results.
Since 1995, Pillar Consulting Corp. has been providing dedicated tech support and web development for small businesses, combining customer service with the creative use of technology. Companies depend on Pillar search engine optimization services for measurable results. For more information, visit http://www.pillarcc.com or http://www.keywordfriendly.com.
Contact:
Richard D. Lee
President
Pillar Consulting Corp.
212-255-3970
# # #