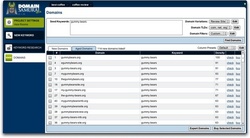 Domain Samurai is Free - completely Free Domain Samurai is our gift to you for all the support you've shown us in the last two years. P.S. Don't wait another moment! There are only a LIMITED number of .com domains available – get yours NOW!
Anaheim, CA (PRWEB) March 26, 2011
For anyone wanting faster, easier, higher search engine rankings - this new tool is for you. It's a completely new software package, designed to help you find SEO optimized domain names that magnify your SEO results,and they're giving it away to you -- for free.
What are domains and why are they important?

A domain name is the bit before the .com, .org, .net, .co.uk, etc...
Picking the wrong domain is a big mistake that many people make when they're just starting a site, and once it's done, it's practically impossible to fix.
Sites that choose the right domain name can achieve faster, higher rankings in the search engines - with far fewer links than competitors who have selected poorly optimised domains.
But pick the wrong domain, and getting high rankings (and traffic!) can become a struggle - with more effort, more time and more links required to get the same results.
What does Domain Samurai do?
Domain Samurai helps you to find high value, highly optimised domains in your market, in seconds!

Quickly discover keyword optimized domains in your market that you can register immediately; Send the results of your keyword
research straight into the "Domains" module, and find out in seconds what the best SEO optimised domains are for your site.

Select from 19 domain types (.com, .org, .net etc), add hyphens, prefixes or suffixes - and uncover hidden dynamite domains
Find profitable Aged Domains in seconds: Connect Domain Samurai to the powerful DomainFace database to automatically search 100,000's of domain sales and auctions; Find dozens of keyword-relevant domains for sale with pagerank, domain age, backlinks and even traffic, in no time.
See trusted SEO data about Aged Domains at a glance. Sort and filter by Domain Age, PageRank, domain keyword densities,
backlinks, indexed pages....

How do I get Domain Samurai?
Remember we only recommend things we've grown to trust. We've worked with Noble Samurai and they put loads of time and knowledge into what they provide, we're confident you'll always get way more from the product you get from them than you paid for it, and in this case the price is zero, so it's a pretty low risk intro.
Grab your free copy of Domain Samurai.
# # #