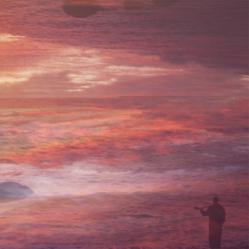 KG & The Storytellers' latest release, "Inner Voices" is available for free download at http://kgstorytellers.com/free-music.
Exeter, RI (PRWEB) June 26, 2012
New England-based KG & The Storytellers' debut, "Inner Voices," begins light-hearted and joyously searching for answers, reassurance, mantras, and positivity. Dedicated to creating concept albums, Kg & the Storytellers can be summed up as singer/songwriter supported by vastly cultured rhythms, melodic counterpoint bass grooves and saxophone styles from classical to jazz, all complemented with tasteful electric guitar and synthesizer for a touch of psychedelic atmosphere. Each of the band members have extremely well-rounded musical backgrounds, which all shine together and help set their style apart from the mainstream. Acoustic, folk, classical, pop, jazz, psychedelic, and world are not just represented from song to song, but instead are successfully blended to create a refreshingly organic and fun original sound in every song.
"Inner Voices" begins with a jazzy, easy-going, funky jam featuring Kevin Main's clear vocals leading the way to enlightenment in a fun, bongo-filled manner. The scatting and "Bu-bu-Buddhas" are catchy, blending well, and complement the music. "Voices of Reason" takes a different path and sounds like a beach-front speakeasy under the stars: it's smooth, sensual, and the harmonious blending of Brittany Thompson and Kassie Lufkin's lovely vocals with Main's soul-tinged pipes bring down the house live. The lingering sax during the song's close is bluesy and exceptional. "Walking Around" is plaintive and longing, but lovely; Main's lyrics are given their own stage with this quiet mantra to get through hard times. At the musical interlude, "Inner Voices," the album transitions to trippy, psychedelic, and almost spooky, as though the pilgrim has passed through the realm of safe soul-searching to grappling with the demons that threaten it. With "Phenomena" the album returns to its up-beat track, but with a definite haunting, New Orleans-esque twinge: it feels like a boozy stumble from Bourbon Street to a back-alley voodoo parlor, only to come out on the other side indescribably altered but still standing.
KG & The Storytellers is Kevin Main (vocals and acoustic guitar), Robert Hanna (electric lead guitar, acoustic guitar, synthesizer, and percussion), Steve Johnson (bass), Ryan Kowal (vibraphone, electric piano, and glockenspiel), Rufus Brothers (drums, bongos, djembe, and percussion) Yanna Kiriacopoulos (acoustic violin and electric violin) Frank Moniz (alto saxophone, tenor saxophone, and electric rhythm guitar), Dennis Hughes (acoustic piano) Cameron Brennan (alto saxophone and electric guitar), Brittany Thompson (vocals), and Kassie Lufkin (vocals). "Inner Voices" was recorded at Walk of the Earth Productions, produced by Robert Hanna and Kevin Main, engineered and mixed by Robert Hanna, and mastered by Lewis Hopkin.
KG & The Storytellers' latest release, "Inner Voices" is available for free download at http://kgstorytellers.com/free-music. You can learn more about KG & The Storytellers and see their latest show dates on their website http://www.kgstorytellers.com
If you have any questions, comments or would like to set up an interview don't hesitate to contact Melissa(at)powderfingerpromo[dot]com.