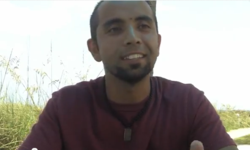 At 12 years old, I was now the man of the family. I had to take care of my mother and sister and my brother's widow was expecting a child.
Jacksonville, Florida (PRWEB) August 19, 2012
Khalid Ibrahimi, Kay to his friends, is no ordinary 24-year old that is making plans for the future. This college educated artist, entrepreneur and motivational speaker lived a very different life just 12 years ago. The hopes and dreams that are available to most Americans were nonexistent in Khalid's home country of Afghanistan where he and his family lived a terrifying life. Khalid's courageous and emotional life story is now released in a new video that is available free to the public in its entirety at the following link: http://www.youtube.com/watch?v=DdhPdlaM8l4.
"We had no windows in the very small ground level apartment I shared with my family in Afghanistan," Kahlid reveals in his video. "The windows were broken out constantly due to the nightly bombing. We were in the middle of a war zone. I was 12 years old," Khalid remembers in his flashback.
Most 12-year old boys spend time playing with their friends and dreaming about being a baseball star or fireman. Most children that reach this golden era in their life remember it fondly for being a great time. According to Kay in his video, between the ages of 10 and 15 were the worst of his young life.
"My father was killed in battle and me and my brother had to operate the family business of selling DVDs, music and other media in Afghanistan," remembers Kay. "The Taliban moved in and declared all media banned and anyone caught with it would be jailed or instantly killed.
"The Taliban beat, mutilated and beheaded my older brother for protecting the family and our business. I had to identify his body on my way to school," Kay remembered emotionally. "At 12 years old, I was now the man of the family and had to get a job. I had no skills and knew absolutely nothing about work. I had to take care of my mother and sister and my brother's widow was expecting a child. I had to be a man," Kay said.
Human trafficking in Afghanistan and in neighboring Pakistan was at an all-time high in the year or two before September 11, 2001. Kay remembers many occasions where he feared for his life while grown men tried to take his innocence and no one did nothing to help him.
"I eventually got a break with help from the United Nations when I was 14 going on 15. I was selling my hand drawn art and it caught the attention of missionaries that helped me to get a way out of Pakistan where we were stationed after fleeing as a fugitive, on the run from the Taliban, from Afghanistan," Kay remembers vividly.
Most Americans envision the U.S. as an easy place to live although many foreigners see it as complete paradise. A land of opportunity and justice can seem like paradise compared to death, brutality and injustice that many living in Afghanistan and Pakistan witness on a daily basis.
Kay is now using his traumatic upbringing in a positive way helping other people to appreciate life and help them fix problems. He is studying marketing and psychology at the University of North Florida. The team at Marketer's Black Book, http://www.marketersblackbook.com, hired Kay as an intern last year when they learned of his remarkable courage and amazing life story.
The Marketer's Black Book team is now helping Kay to find public speaking and motivational speaking opportunities so that he can have the ability to share his story with the world to help and inspire others that could be struggling in life.
"I just want to help people. I'm a people person. If anyone knows how to overcome struggles and fear it's definitely me," Kay said passionately. "I would love the chance to speak at public conventions, seminars, church groups or other functions that give me the pleasure of telling my story and helping just one person to cope with the struggles and losses in their life," added Kay.
The news media or other organizers that are interested in contacting Kahlid "Kay" Ibrahimi can do so by contacting Brian Hanson at Marketer's Black Book to arrange an interview.
About Kahlid Ibrahimi
Kahlid Ibrahimi is 24-years old and studies marketing and psychology at the University of North Florida. Khalid is the owner of several car dealerships and actively uses his free time to help other people. He organized the meetup group, http://www.meetup.com/unffriends, which is a group that helps people connect while away at college through get-togethers and social activities. Khalid Ibrahimi is getting ready to launch his official website at http://www.myescapetofreedom.com that is currently under construction.