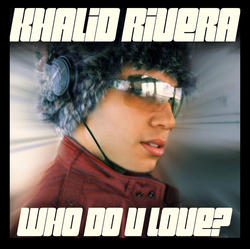 Bend the rules of gravity to find your heart's desire in the relentless beat of, WHO DO U LOVE?
Richmond Hill, NY (PRWEB) May 12, 2010
After a successful debut album with breakout hits, Every Nite and Salvation, Two Time #1 LOGO Music Video Recording Artist, Khalid Rivera, releases the brand new pulsating single/video, Who Do U Love. It's his best work yet, and is poised to win Rivera an audience far beyond the New York dance clubs where his music is a regular presence.
Khalid Rivera reverts back to the strong vocal sounds of Ibiza and Manchester's Hacienda club. He puts his soaring and commanding voice to good use in his new single, Who Do U Love, an irresistible club track with relentless beats, whistling synthesizers, and throbbing, insistent bass. It presents amazing production and remixes by freestyle Recording Artist, Artie Rodriguez and DJ Aaron Carl.
The music video for Who Do U Love is awash in flashing lights, speakers, and mesmerizing dance moves. The special effect is so straightforward that it very nearly defies description -- the nimble Rivera moves to the beat in front of a bank of hot white circles that expand and contract in size. Anthony Fletcher's direction takes its cues from Hollywood, not the Great White Way.
Calling Mr. Rivera a potential pop star masks his full abilities as a performer. He is a triple threat with soaring voice, dance and acting skills. His stage work has heavily informed his showy, theatrical, and magnetic video performances. His is no stranger to the music video market. His video for the sparkling Salvation made the top spot on LOGO's, The Click list video countdown. It was also the #9 video of 2009 on LOGO. The viewers loved his spot for the soulful Every Nite , too: that video was #1 for 3 weeks and made LOGO's Click List Countdown two years in a row.
With the release of Who Do U Love, Khalid Rivera is poised to win a bigger audience and achieve higher levels of success.
# # #