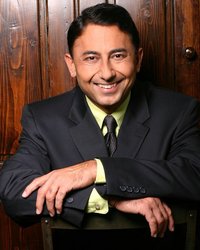 Westlake Village, CA (Vocus) March 10, 2009
The Ventura county Star awarded Dr. Khanna the reader's choice award for Westlake village and East Ventura County in the LASIK Category. The readers all voted for the most popular and caring local business represented in the newspaper. Dr. Khanna was selected by popular choice. The Ventura county Star is a prestigious and well respected newspaper widely read in the Ventura and Los Angeles County of southern California area.
The Khanna Institute was humbled at this honor and achievement. This was the second consecutive year of winning this award. The Khanna Institute continues to bring the latest technology and care to the people of Ventura, Westlake Village, Thousands Oaks and Simi Valley. Khanna Institute is the only center in Thousand Oaks and and Westlake Village to have the latest wavefront Technology with Iris Registration. Corbin Bleu, High School Musical actor chose to have his surgery in the Westlake Village Lasik Center of Khanna Institute. Dr. Khanna has helped out the local community in many ways such as donating to the Westlake Foundation, Oaks Christian School, and many public school systems in the area. Dr. Khanna will continue to be of service to the community and the people.
About Khanna Institute of Lasik Surgery:
The Khanna Institute of Lasik Surgery provides the latest technology in vision correction, tailored to each individual depending on their level of astigmatism, nearsightedness, farsightedness and presbyopia. The Khanna Institute of LASIK and Refractive Surgery has multiple offices conveniently located in Valencia, Westlake Village, Costa Mesa, Beverly Hills, and Corona. Rajesh Khanna, MD is the Medical Director of the Institute. Dr. Khanna is a Board Certified Ophthalmologist, and has been fellowship trained in LASIK, Cataract and Corneal Surgery. He is in the forefront of Wavefront LASIK surgery, Presbyopic Implants such as RESTOR Aspheric Multifocal and Crystalens HD. Dr. Khanna has performed over 10,000 vision correction surgeries. The Khanna Institute provides vision care to people from all over the world.
Contact:
Kelly Schneider
Rajesh Khanna, MD
Khanna Institute of Lasik Surgery
1220 La Venta Dr #209 Westlake Village 91361
Phone: 805-230-2126
Fax: 805-230-2199
http://www.khannainstitute.com
# # #