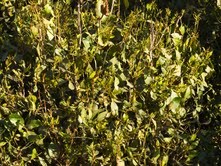 Khat Drug Treatment Announced at Recovery Associates
West Palm Beach, Florida (PRWEB) May 09, 2013
Recovery Associates delivers Khat Drug Treatment options toward a better lifestyle.
Research indicates that use of the mind-altering drug Khat causes serious side effects to brain chemistry and leaves a person craving its addictive taste.
Pronounced "cot," Khat contains cathinone, a controlled substance with no recognized therapeutic use. According to the National Institute on Drug Abuse, it is for this reason that the Federal Government considers khat use illegal. Khat shrub leaves are chewed and held in the cheek, like chewing tobacco, and their stimulant chemicals are released. Psychoactive ingredients cathinone and cathine are prevalent in khat, raising dopamine's level in brain areas focused on pleasure and movement.
It is not clear if khat causes tolerance, physical dependency, addiction, or withdrawal. Long-term users report mild depression, nightmares, and trembling after stopping their khat use. What is clear, though, is that overdependence upon khat is not good for your health. This is where Recovery Associates can step in and help kick start a person's recovery from khat. To learn more about khat and the dangers of the drug visit http://www.drugabuse.gov/publications/drugfacts/khat
Recovery Associates is a drug and alcohol treatment center that provides a variety of programs and services for men, women and teens struggling with chemical dependency issues. At the core of their philosophy is the belief that addiction is a treatable illness. Their addiction treatment experience has shown that anyone is capable of achieving lasting recovery and physical, mental and spiritual freedom from the disease of addiction.
Their unique program offers three different tracks: a Traditional Track, an Expressive Therapies Track, Teen Rehab Track, and a Christian Drug Rehab Track. They believe that by utilizing a variety of therapies they can better assist their clients in finding their own individualized path to recovery. Their focus is on the underlying issues that have led to the addictive behaviors and destructive patterns.
Recovery Associates' multidisciplinary team is made up of a Board Certified Addictions Psychiatrist, Master's Level Therapists and Certified Addictions Counselors. They are passionate about recovery and helping individuals and families begin the healing process.
For more information about Recovery Associates and their Khat drug treatment programs, call 800-392-3180 or visit their website to learn more.