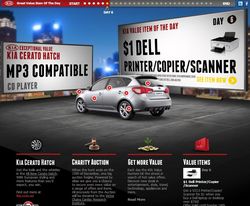 (Vocus) November 9, 2010
A fortnight into the innovative six-week promotion spotlighting the introduction of KIA's new car - the All New Cerato Hatch, the website getmorevalue.com.au has already offered consumers nine daily value items emphasizing the "value for money" proposition at the heart of this exciting new car.
KIA Value hunters have been hot on the trail of the best products and services in lifestyle, travel, technology, appliances and more. Each value item has been selected to reflect elements of looks, power, technology and safety found on and in the Kia Cerato Hatch.
Each deal is accessible at third-party websites by clicking a convenient "buy now" button that will whisk consumers directly to the page detailing the day's offerings. Late to the party? No worries, as each day's value item will remain live throughout the promotion—or as long as stocks last.
More Bang for the Buck
On November 1, the premiere day of the program, Get More Value offered those who purchased the Acer Travelmate 5740G laptop at The Laptop Factory Outlet, a bonus extra value pack with Trend Micro's 2011 Antivirus software, a digital USB TV Tuner, USB mouse and carry bag.
On Day 2, consumers forwarded to digiDIRECT.com.au were treated to a 4GB bonus memory card and case with the purchase of any Canon Compact Camera. Day 3 saw Readyrooms.com.au offering four nights at an international destination for the price of three, while Day 4 saw the purchase of any Safe-N-Sound Convertible Car Seat or Convertible Booster Seat from Baby Village earn a free Safe-N-Sound Car Organizer valued at $39.95.
On Day 5, Logitech offered a $39.95 value K300 keyboard to the first 1000 consumers who spent $100 at logitechshop.com.au. Dell stepped up on Day 6 to include a bonus AIO printer/copier into the purchase of $700 on any Dell Notebook or Desktop computer for an additional dollar.
Future value items promise the same level of quality and savings.
Paying it Forward
KIA is mindful of value to the community as well as the consumer. Thus, at the conclusion of the promotion, on December 10, eBay will power one grand final online charity auction offering a chance to secure even more value on a broad range of products and services.
All proceeds from this auction will be donated directly to the Victor Chang Cardiac Research Institute (VCCRI). Founded in 1994, the 13 full-time scientists at VCCRI lead the charge in adult stem cell technologies and their potential application to the treatment of cardiovascular disease.
The KIA Difference
Prominent in their range of quality new cars, the KIA Cerato is all about giving value back to the consumer each time they get behind the wheel. With European styling, a powerful 2.4L engine, rugged suspension and a generous number of exciting extras standard, the car blends luxury, durability and economy in equal measure.
Everybody's after value for money: with get More Value and the All-New KIA Cerato Hatch, that value is available right now, both online and in the exciting new cars found at the nearest KIA showroom.
###