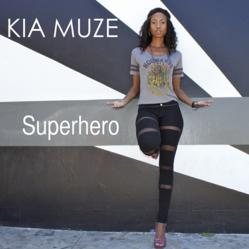 "And spirituals such as "How Blest We Are" will help make stardom an inevitability for Kia"-John Moore, The Denver Post
Hollywood, CA (PRWEB) February 12, 2013
The debut musical project, Superhero, from Kia Muze will be released for worldwide distribution under the 1 Nation World Groove imprint on February 19. The seven song EP is what Kia has branded Electro-Rock-n-B. Heavy on drums, electro synths and soulful melodies, this collection of songs centers on the never exhausted theme of love-new, unrequited, Divine, familial. "It's most organic for me to write what I know and so, I like to write from personal experience", Kia says.
While this is Kia Muze's debut project, she is no stranger to the music industry or to performing. She interned at Rowdy Records helmed by Dallas Austin, sang in the girl group Third of July on an unreleased album, then moved into musical theater where she performed all over the country in shows like Little Shop of Horrors, Hair, Ain't Misbehavin' and Big River. She was nominated for a Denver Ovation Award for her performance in the Broadway national touring production of Big River. After relocating from New York to Los Angeles, Kia worked on the early version of the Motown musical, Ain't No Mountain High Enough under the leadership of Kenny Leon and music icon Berry Gordy and was also seen in television shows such as the series finale of the West Wing, My Boys, and Mind of Mencia.
With a chemistry degree from Duke University, Kia Muze is highly motivated. She wrote and produced all of the tracks on the album except for Brainspace which she enlisted the aid of pop maestro Jimirex for. Says Kia, "I wanted at least one track that was something that I would not normally do for myself, that had a dark pop edge to it. Brainspace is exactly that. My own production tends to be firmly grounded in RnB. I could sing harmonies and gospel all day long and most days I do! I still love to layer background vocals like old school groups did but update it with filters and syncopated rhythms. Its insanely fun."
Shows are planned in Los Angeles and the surrounding area beginning March 2013 and will be announced on the website, http://www.kiamuze.com.
Superhero is available at the KIA MUZE website, iTunes and Amazon.com on February 19, 2013.