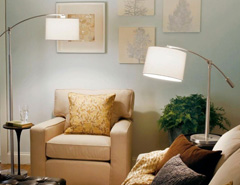 Kichler Superstore believes that energy-saving innovations in lighting benefit the environment and reap great financial savings for consumers
San Mateo, CA (PRWEB) June 13, 2011
With the phase out of all energy guzzling incarnations of the 100-watt fluorescent light bulb by the end of this year, Kichler Superstore, a premier online vendor of indoor and outdoor lighting fixtures, offers a freshly redesigned website with an array of energy-efficient home lighting options.
In accordance with George W. Bush's Energy Independence and Security Act of 2007, all incandescent bulbs are required to be 25% more efficient and accommodate versions that have more energy saving measures. Additionally, the law mandates a phasing out of certain current versions of incandescent bulbs, the first of which are the popular 100-watt incandescent bulbs. By December 2011, manufacturers will cease to produce this light bulb.
The reactions to this new law have been varied. Many Americans believe that the law calls for the complete cessation of the manufacture of all incandescent bulbs—a movement taking shape in the European Union, Switzerland and Australia, with many more countries to follow suit.
However, unlike the aforementioned countries, the United States has no plans of stopping the production of incandescent bulbs. Instead, the law demands the production of energy-efficient versions of the bulbs.
There are others who welcome the changes being brought about by the energy law. According to the New York Times, some designers see Light Emitting Diode (LED) fixtures as energy and time saving devices that allow more freedom in their design work. City planners are also taking advantage of LED lighting and have incorporated them into urban engineering designs, particularly in streetlights.
"Kichler Lighting has always advocated the use of energy-efficient lighting," says Karishma Baijal, spokesperson for Kichler Superstore. "Kichler Superstore also firmly believes that these energy saving innovations in lighting not only benefit the environment, they also reap great financial savings for consumers. To bolster the phasing out of these energy-guzzlers, we encourage our customers to choose from our wide selection of energy-saving light fixtures."
A leader in energy-efficient fixtures, Kichler offers a variety of LED and Compact Fluorescent Light (CFL) in designs ranging from classic to contemporary for each room of the house, from kitchen to bathroom lighting. In addition to this 2011/2012 phase out, Kichler Superstore also anticipates the influx of warm-weather home remodels. With a fresh website redesign, customers can now easily search for and purchase these energy saving fixtures and other lighting fixtures they may need when summer comes.
Whether homeowners need to rework a kitchen lighting scheme, reduce their carbon footprint or save up to 75% on energy bills, KIchler Superstore encourages consumers to join the movement towards a Green reality with the use of energy-efficient lighting fixtures and bulbs.
# # #