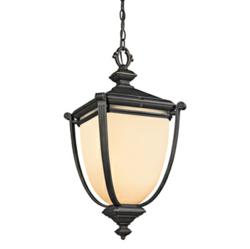 Homeowners who are building value now are going to be ahead of the curve.
San Mateo, CA (PRWEB) July 11, 2011
July is National Recreation Month, and this year homeowners can look forward to spending time in the Great Outdoors and to increasing resale value on their homes. Kichler Superstore, an online retailer of Kichler Lighting fixtures and ceiling fans, is slashing prices on some of its most popular Kichler Lighting Superstore products, offering bestsellers at up to 33% off.
According to the company's spokesperson, Karishma Baijal, the driving force behind this sale is recent real estate reports. "Real estate prices may be down this year, but the next few years will be good for homeowners who are looking to build value," says Baijal. "Housing prices are projected to rise in a few years' time, and forward-thinking homeowners are improving their property values with home improvement projects. At Kichler Superstore, we encourage homeowners to boost their homes' resale values by offering economical indoor and outdoor lighting upgrades."
Things are looking up for real estate agents, homebuyers, and sellers. Fox Business reports that mortgage rates are also improving, and expected to rise alongside the economy.
The Emerging Trends in Real Estate® 2011 Forecast from the Urban Land Institute and PwC also predicts stronger buying power from borrowers. According to the forecast, the debt market is expected to loosen further this year, meaning that borrowers can enjoy better rates when refinancing—a far cry from the state of debt markets in early 2010.
The best news for homeowners is that potential homebuyers are focusing on long-term prospects. According to Front Door, HGTV's online real estate marketplace, homebuyers are starting to think "long-term" when they look for new houses. Both first-time and repeat homebuyers are saying they want homes that they can live in for decades.
Baijal believes that this is another area where Kichler Superstore's offer becomes relevant: "Because buyers are viewing homes as long-term investments, improving a property's aesthetics and home lighting design can give a considerable boost to a house's market value, even if it's as simple as adding sconces to your bathroom lighting plan." Kichler Superstore has also expanded its collection of outdoor lighting, living room lighting, bedroom lighting, and kitchen lighting fixtures, and is confident they can help homeowners looking to both sell or stay.
For more information please visit http://www.kichlersuperstore.com.
About Kichler Superstore
At Kichler Superstore, our goal is to help you find the perfect Kichler Lighting fixture for your home. We are passionate about Kichler Lighting products and have dedicated ourselves to being the finest retailer of Kichler Lighting light fixtures.
###